With the development of information technology, all kinds of electronic equipment fill people's work and life. At the same time, people need to remember the passwords for various electronic devices, such as the iPhone password, Mac password, iPad password, etc. While, forgetting your iPhone password is a common occurrence. If you find yourself locked out of your iPhone and can't remember your iPhone passcode, don't worry. We will provide you with secure and efficient ways to bypass or reset your iPhone password without losing your data. These unlock methods help users unlock their iPhone without passcodes, and you can choose according to your needs. For the safety of your data, though, we'll focus on ways to regain access to your locked iPhone without losing your data.
Product recommendation: iPhone Unlock
PART 1 Several Effective Solutions for Unlocking iPhone Passwords without Losing Data
Among the numerous methods in the industry to unlock iPhone passwords, we will provide you with some solutions that can bypass iPhone passwords without losing saved data.
Method 1 Use iTunes to Bypass iPhone Passwords
To use this method, we recommend that you first perform an iTunes backup. That is to say, you need to first back up your iPhone's data to iTunes. Then, after erasing the iPhone password and device, you can use the latest backup data for recovery. After completing the above steps, you can set a new password for your iPhone.
For instructions on how to unlock your iPhone passcode via iTunes backup, you just need to complete the following steps.
Step 1 Connect your iPhone to your computer using USB, and then start iTunes. If the system prompts for a password, please restart the phone.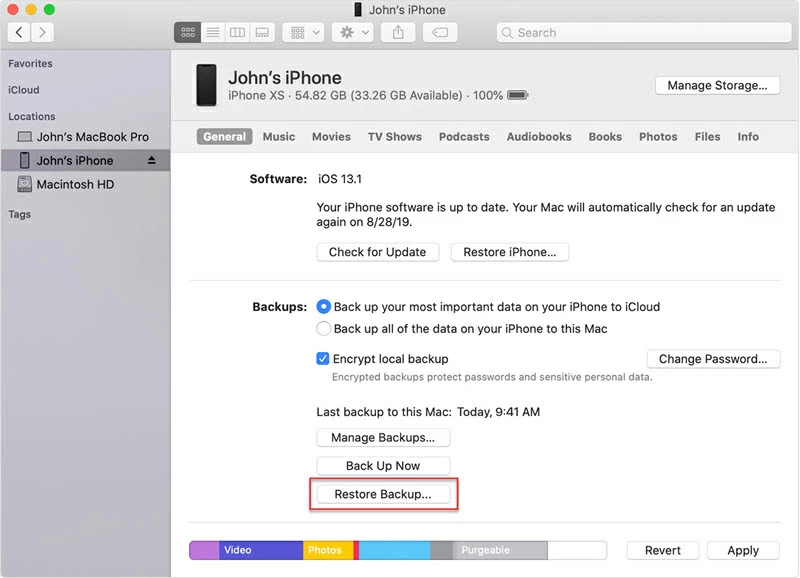 Step 2 On the iTunes page, select your iPhone, and then click "Restore Backup".

Step 3 In the pop-up window, you will see the backup file. Select the latest one and click "Restore". If prompted for a password, provide the password used to encrypt the backup.
Step 4 If the system prompts you to disable "Find My iPhone", you need to enable recovery mode. The steps are different for different versions of iOS devices.
-iPhone 8, iPhone X or later: Press and hold Volume - + Volume + + Side Button;
-iPhone 7 or iPhone 7 Plus: Press and hold Volume - + Side button;
iPhone 6s and earlier: Hold down the home screen + top (side) button.
Press and hold the above function keys until you see the Recovery mode screen.
Step 5 Later, a prompt will pop up on iTunes, please click "Restore and Update". Of course, you can also start the iPhone recovery program without updating it.
Step 6 Your iPhone will restart. At this point, please ensure that it remains connected until the synchronization is complete.
Method 2 Use iCloud to Bypass iPhone Passwords
If iCloud backup is enabled on your iPhone, you can also bypass your iPhone password through iCloud. This method requires iOS users to enable "Find My iPhone" and set up iCloud backup. If these prerequisites are met, you can start unlocking your iPhone password by connecting to a stable wireless network and installing iTunes on your computer.
You can refer to the following steps on how to unlock iPhone passwords through iCloud backup.
Step 1 Connect your iPhone to a computer with iTunes using a USB cable.
Step 2 Start recovery mode on iPhone, then click on "Restore and Update", and then download the latest iOS version according to the system prompts.
Step 3 Enter the Apple ID and password according to the system prompt and complete the restart. At this point, you will regain access to the iPhone and use all its functions normally.
Step 4 Follow the prompts on the screen to complete iPhone settings and click on "Restore from iCloud" on the iPhone. Then select the latest backup file and click "Restore" to start data recovery. Please ensure that your iPhone is connected to a powerful Wi Fi network throughout the entire process.

Method 3 Contact Apple Support
During the use of all iOS devices, regardless of any issues you encounter, you can always contact Apple support for further advice. If you haven't backed up iPhone data, try contacting Apple support.
Part 2 Other Methods for Unlocking iPhone Passwords without Losing Data
The above is how to unlock the iPhone passcode provided by Apple, and you can also try other solutions that do not lose data and bypass the iPhone passcode.
Method 1 Use Siri to Bypass The Locked Screen
Due to concerns such as Apple updating its iOS to fix security issues, this method only works for iphones with iOS 8.0 to 10.3. For instructions on how to unlock your iPhone passcode using Siri, follow these steps.
Step 1 Press the home button several times to activate Siri.
Step 2 Make a random request to Siri so that it can respond.

Step 3 After Siri responds, the unlock process begins. You will see a reminder on the screen, press and hold to select all options.
Step 4 You can use this shared message to type anything in the "To" field, return to the pithy "+" symbol to select and create a new contact.
Step 5 Select a photo and go to your gallery. Finally click the Home button.
Once you've done this, your iPhone is unlocked.
Method 2 Attempt to Backup iPhone without Unlocking The Screen
If you're worried about losing current data on your device if you unlock your iPhone passcode without backing up your files, you can try backing up without locking the screen, and then bypass your iPhone passcode through iTunes and iCloud.
Backing up a locked iPhone requires finding the computer that previously synced the iPhone. If you are using iOS 11.4 or later, you can try using iTunes backup directly.

If you are using an iPhone with iOS 11.4.1 or later, you will need the USB accessory to turn on. later
Use USB to connect iPhone to PC, and finally use iTunes and Method 1 Backup and Restore.
PART 3 A Reliable Way to Unlock Your iPhone Passcodes (Lost data)
Method 1 Use iPhone Unlock to unlock the iPhone password
iPhone Unlock is a popular unlocking software used to bypass the screen lock on the iPhone. It supports unlocking various types of screen locks. The software bypasses the iPhone's screen-lock security feature in cases such as screen damage. In addition, iPhone Unlock can easily remove Apple ids and MDM locks without the need for a password. However, we recommend backing up your iPhone with iTunes before using iPhone Unlock to unlock your iPhone passcode. Otherwise, the data on the iPhone will be lost.
Regarding how to use iPhone Unlock to unlock your iPhone password, you only need to complete the following steps.
Step 1 Install and launch iPhone Unlock on your PC/Mac. Then select the "Unlock Screen Password" mode.

Step 2 Click the "Start" button and use a USB cable to connect the iPhone to the computer.
Step 3 According to the unlocking software prompt, download the firmware package suitable for your iPhone. After extracting the firmware package, click "Start Unlocking" and enter 000000 to confirm and start the unlocking process.

Step 4 After unlocking is completed, you will be able to freely access iPhone without entering a password.

With these simple steps, you can use iPhone Unlock to unlock your iPhone password. But make sure you have backed up your iPhone data using iTunes.
Method 2 Unlock iPhone Password Using "Recovery Mode"
The operation of unlocking iPhone passwords using "Recovery Mode" is also very simple.
Step 1 Connect your iPhone to the computer through a USB cable and put it in idle mode.
Step 2 Place iPhone in recovery mode.
Step 3 In the iTunes window that pops up on the system, click "Restore iPhone" to erase your device and restore it to its factory settings.

Summary
The above are several effective methods we provide for you to bypass the locked iPhone. These unlocking methods can help regain access and usage rights to iPhone devices. Among the many ways to bypass iPhone passwords, iPhone Unlock has become the best solution due to its security and excellent success rate. It is suitable for all versions of iOS and is simple, easy to use, secure, and reliable. If you forget the iPhone unlock password, try iPhone Unlock. It can help you get rid of the trouble of being permanently locked out of your iPhone.