What is the reason why my iPhone prompts "SIM not supported" or "SIM invalid"? Is there any effective solution?
When you replace the SIM card of your iPhone and see the message "SIM not supported" or "SIM invalid", you must feel a headache and don't know why. Actually, this is because your SIM card has been locked by the carrier. After knowing the reason, the key question is how to unlock the iPhone locked by the carrier? We have summarized some effective methods for you, let's take a look.
Product recommendation: iPhone Unlock
Can I Unlock An iPhone Locked by A Carrier?
iPhones locked by carriers can be unlocked. Usually, only the carrier can unlock your iPhone. That is to say, you can contact the carrier and request them to unlock the locked iPhone. The next step is to wait for the carrier to complete the unlocking process, which may be fast or take a few days.
How to Unlock An iPhone Locked by A Carrier?
1. Contact your carrier to unlock your iPhone
As mentioned earlier, once you are sure that your iPhone is locked by your carrier, you can contact your carrier to unlock it. In addition, if you want to change your current carrier, for whatever reason, you can also contact your carrier. Contacting the carrier to unlock the iPhone is the official solution. No matter what platform you bought your iPhone through, such as AT&T, Verizon, or another carrier, you can begin the process of unlocking your iPhone through your specific carrier's network. Once you start the iPhone unlocking process on platforms like T-Mobile, AT&T, and Verizon, wait for the carrier to unlock your iPhone for you.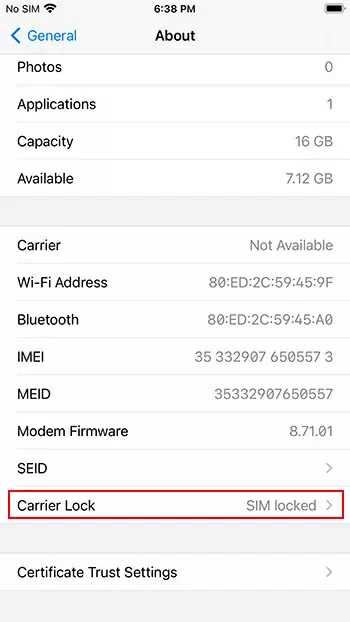 2. Use iPhone Unlock(4uKey) to unlock Your iPhone
If you are facing the situation where your iPhone is locked by the carrier, we suggest that you use the simplest and fastest method to unlock it, which is to use specialized unlocking tools, such as iPhone Unlock (4uKey).
iPhone Unlock(4uKey) is a professional iOS device unlock App that can be used across mobile phones and computers. It is designed to provide users with a service to unlock or bypass the activation lock on their iPhone, iPad and iPod. It easily helps users bypass the iCloud activation lock screen without requiring an Apple ID and password.
You just need to click a few times on the SIM lock page and your iPhone's SIM lock will be removed. After removing the SIM lock, you will be able to use all the features of the iPhone without any restrictions.
The main features of iPhone Unlock (4uKey):
Support unlocking or bypassing iCloud activation locks on iPhones, iPads, and iPods without the need for an ID or password.
Easily eliminate screen lock without activating restrictions.
Allow users to remove SIM locks from all iDevices.
Quickly bypass DNS servers.
The specific steps for how to use iPhone Unlock (4uKey) to unlock the SIM card lock on iPhone are as follows.
Step 1 Install and launch iPhone Unlock(4uKey) on your Mac or Windows. Select "Remove iPhone SIM lock" and click "Start".
Step 2 Connect the iDevice to the PC using a USB cable, and click "Next" to jailbreak the device.
Step 3 After confirming your iDevice information, iPhone Unlock(4uKey) will automatically bypass the SIM lock for you.
Step 4 After the unlocking process is complete, you will see a message indicating that the SIM card lock has been bypassed.
That's all the steps to use iPhone Unlock(4uKey) to bypass the iPhone SIM lock.
The iPhone Unlock(4uKey) has been well received by users and is widely recognized and recommended by iPhone, iPad and iPod users. With the help of advanced technology, iPhone Unlock(4uKey) provides users with a secure and reliable service. It has a simple interface and provides good user experience of the service. After installing and activating iPhone Unlock (4uKey), you only need to click the mouse to bypass the SIM lock that needs to be unlocked in a few minutes, and you no longer need to contact your carrier. Most importantly, bypassing the SIM card lock on the iPhone through iPhone Unlock (4uKey) will not have a negative impact on your iPhone, iPod, and iPod, making it safe and worry free. IPhone Unlock (4uKey) has received 5-star praise from a large number of users. If you also need to unlock the SIM lock on your iPhone, you can try downloading it for free.
3. Try the online unlocking service
If you neither want to contact your carrier nor install any third-party apps, then online unlocking tools are ideal for you, such as DoctorSIM, UnlockBase, phone unlock, etc. However, it should be noted that online unlocking tools may be risky and need to be used with caution. We recommend that you read the reviews of other users before using them.
4. Unlock the chip using SIM card
The SIM unlocking chip is another device profile that can unlock iPhones. You can buy these SIM chips in online stores around the world. The usage of these chips can also be obtained. As the unlocksim website writes, "Update iOS to the latest version 17, remove the turbo nanochip from the blank card, and then place it in an iPhone without a mobile SIM card. However, the latest icci code can only be provided by companies that unlock the SIM chip.
FAQ About iPhone Carrier Unlock
Q1 How much does it cost to unlock an iPhone locked by the carrier?
In general, to unlock a carrier-locked iPhone, the unlocking process typically costs anywhere from $20 to $250 per phone. The exact cost is subject to specific circumstances.
Q2 Does unlocking an iPhone locked by a carrier affect the current data on the device?
To keep your iDevice data secure, we recommend that you use iPhone Unlock(4uKey) to unlock your SIM lock, safely and quickly.
Summary
These are the effective ways to unlock SIM locks on your iPhone, iPad, and iPod devices. You can choose according to your own needs. These method has its pros and cons, but considering factors such as security, effectiveness, and unlocking speed, we recommend that you use iPhone Unlock (4uKey). It has professional unlocking capabilities, which can quickly unlock iDevices such as iPhone, iPad, and iPod without any restrictions while ensuring user data security.