As we know, almost all smart phones, such as iPhone, HUAWEI, Samsung, Sony, Xiaomi, etc., provide built-in locking function. In order to protect the data inside their smartphones and prevent accidental dialing, many users have enabled locking mode. If you want a comprehensive look at some of the common locking patterns, as well as the Android unlocking way, don't miss this article.
Product recommendation: Android Screen Unlock
Introduction to The Most Common Lock Pattern Habits
All users who have used smart phones must be familiar with screen locks. For different mobile phone brands, different users will choose different lock patterns. Different lock patters have different security. The simpler the lock patterns, the lower the security. Let's learn about some of the most common lock patterns habits.
Top Left Corner Pattern: It is said that nearly 50% of people tend to start from the upper left corner when setting the lock screen pattern. In addition, many users tend to start with other 3 Other Corners.
Letter Patterns: There are also a small number of users who like to set caption-shaped lock screen patterns. They account for about 10%.
Common patterns: Some users also like to use common patterns, such as square, triangle, circle, etc. as lock screen patterns.
5 Nodes: A lot of people use five nodes, but a lot of people use two nodes.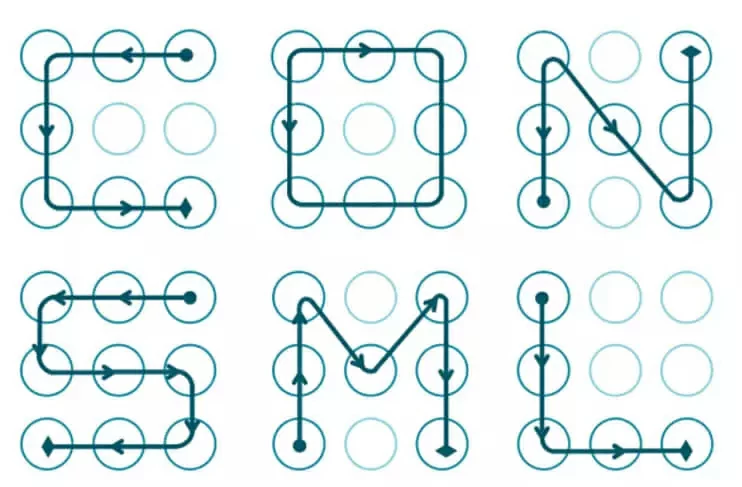 Tips:If the pattern you set is too simple, or you use one of the common setting methods above, it's easy to be guessed by others. This is not good news.
More secure lock patterns for Android devices
To improve the security of your Android device, we recommend that you use a strong lock pattern. Here are some specific tips to help you.
Use a long pattern, preferably including both upper and lower case English subtitles, numbers, and special characters. That makes it hard for hackers to guess.
Do not use your initials as a pattern. Don't use patterns that a three-year-old can guess, and don't give attackers the opportunity to exploit them.
Use multiple crossovers instead of one or two. The more crossovers your pattern contains, the harder it is for others to predict.
Avoid using the common pattern setting habits mentioned above. For example, common pictures or more common nodes in the upper left corner.

Here are some relatively safe and easy to remember lock patterns that you can refer to.

How to unlock Android phones when forgetting the lock pattern
Nowadays, all kinds of electronic products fill our life. We often forget about the lock patterns we set, especially strong lock patterns, because there are so many of them. So how do you unlock your Android phone when forgetting the lock pattern?
In fact, you don't have to try again and again, because you have a faster and more effective way, that is, use Android Screen Unlock to directly delete the lock pattern. No matter how complex the lock screen pattern is, it can be easily removed for you. Let's see how to operate it.
You can use Android Screen Unlock to remove the lock pattern by following these steps.
Step 1 Download, install and start Android Screen Unlock on your computer. Then click Start on the main interface.

Step 2 Connect your Android device to your PC using a USB cable. Confirm or correct the device information after detecting the device, and then click "Start unlocking".


Step 3 It will prepare the packet for you to unlock. Follow the prompts to put your device in recovery mode and continue. Later, the Android Screen Unlock will unlock the lock pattern when the device reboots.

Key features of Android Screen Unlock
Unlock a variety of screen locks, such as PIN, password, fingerprint and even face lock, in a fast and secure way.
No password required to unlock immediately.
Support for almost all Android brands and models.
Very easy to use, and its unlocking success rate of more than 98%.
Easily remove a variety of common Android patterns
Summary of The Most Common Pattern Locks & The Most effective Way to Unlock Android Pattern Locks
To protect the security of your mobile data, it is necessary to set the pattern locks for Android devices, especially a strong lock pattern. This makes it difficult for hackers and other attackers to guess. However, if you forget the pattern lock, don't worry, because it can be removed by Android Screen Unlock quickly and safely.