As we all know, YouTube does not allow users to directly download videos. If you want to watch YouTube videos offline anytime, anywhere on your iPhone/iPad, then this article is for you. This article will introduce you 5 ways to download YouTube videos to iPhone/iPad. No matter what your reasons for downloading YouTube videos to your iPhone/iPad, you can find out how to download YouTube videos to your iPhone/iPad.
5 ways to Ddownload YouTube Video to iPhone
Geekersoft Downloader is a downloader developed by Geekersoft for iOS/Windows/Mac/Linux/Android users. iPhone/iPad users can download videos directly from their device. With one click on their iOS device, they can unlock the actual video file and choose from a variety of formats, such as MP4, WEBM, MP3, and HD video formats.
How does Geekersoft download work? Let's take a look>
First, open Geekersoft downloading URL with Safari on iPhone/iPad.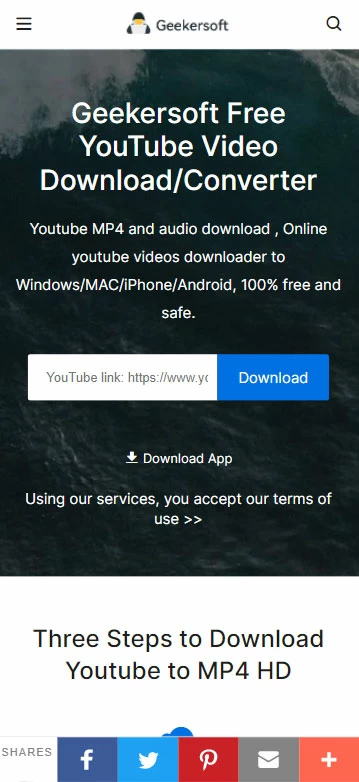 After that, copy the YouTube video link and fill in the Geekersoft page input box, then click the "Download" button.

Finally, select the download format you want from the download format of the unlocked video file.

Onlinevideoconverter
Do you need to install an iPhone/iPad APP to download YouTube videos? In fact, an online website is enough. Onlinevideoconverter is one of them. It is a Web-based application that iOS users can use directly as a Web-based site. This is also a conscientious and more user-friendly website, because users don't need to install programs like other softwares, and all operations can be done directly on the webpage!

Odownloader
The third tool we recommend is Odownloader, another popular online downloader. It allows iPhone/iPad users to download HD videos. The purpose of our recommended tool is to make video downloading very easy. Similar to the previous two, the page simply copies and pastes the link into the address bar, selects the desired video resolution, and soon the video is available on the device.

iTube studio
iTube studio is a tool to download YouTube videos to iPhone, iPad and iPod via computer linked to iPhone. It allows you to transfer downloaded videos to your iOS device. It also supports batch downloads.
##下载按钮3##
Follow the guide below to download videos to iPhone/iPad/iPod and enjoy anytime.
Step 1: Add the video to the download list.

Step 2: Add the video to the transfer list.

Step 3: Connect your iPhone, iPad and iPod to your computer.

Step 4: Video transfer to your mobile devices.

BlackHole Cut
If you don't want to sign up for YouTube Premium and still want to have an app that can download YouTube videos directly on your iPhone/iPad, then you may have to do a lot of searching, as there are few such apps in the APP Store due to policy reasons. We introduce a BlackHole Cut that can be found on the App Store. This application downloads video directly to the camera. However, before you download it, you should know that YouTube does not allow users to download and distribute content on its platform unless they have a license or written permission.