"My iPhone keeps turning off, what's the reason? Are there any effective solutions?"
For many iPhone users, there's nothing more irritating than an iPhone that keeps shutting down and shutting down. Losing unsaved data, missing calls, and suffering unnecessary interruptions because your iPhone is constantly turning off can be unbearable. If you are also suffering from the constant shutdown of your iPhone, then don't miss this article. We will walk you through the common reasons why your iPhone keeps turning on and off, and how to solve them.
Product recommendation: iOS System Repair
PART 1 Why does My iPhone Always Turn Off?
There are many reasons why iphones keep turning off, such as software problems or hardware failures. Some of the most common reasons include the following.
- Battery indicator failure: One of the most common causes is that the battery indicator may display 0%, even if the battery still has a charge. This could trick the operating system into thinking the battery has run down, causing the iPhone to shut down on its own.
- Software issues: If the software is incompatible or conflicting, it can interfere with other operating system services and force the iPhone to shut down.
- Hardware issues: The iPhone has water or battery life has expired.
PART 2 How to Fix an iPhone that Often Shuts Down
Now that you know what's causing your iPhone to behave so strangely, let's move on to what different solutions can be used to fix this strange problem. Whether your iPhone shuts down randomly or repeatedly, the following methods can solve the problem.
Method 1 Force A Reboot of Your iPhone
For most personal electronic devices, if you encounter a situation where you can't start or use properly, we recommend that you try to restart. If your iPhone suddenly shuts down and doesn't turn on, force a reboot. The specific operation steps are different for different models.
-IPhone 8 and later models:
Step 1 Press and release both volume+and volume - simultaneously.
Step 2 Press and hold the side button until the screen closes and then reopens. Release the side button when you see the Apple logo appear.
-iPhone 7/7 Plus:
Press the Power button and the Volume-button to force a reboot of the iPhone7/7 Plus.
-iPhone 6S, 6, SE and earlier models:
Step 1 Press and hold the Home button.
Step 2 For iPhone 5 series, press and hold the sleep/wake button and hold the top until the Apple logo appears.
Method 2 Update The iOS Version
If the iOS version is outdated, there may also be an issue with the iPhone constantly turning off. Trying to update the iOS version can help users solve many problems. Including the random shutdown of the iPhone. You can update your iOS version to the latest version by following these steps.
Step 1 Turn on the iPhone, go to Settings > General > Software Update > Download and Install.
Step 2 Enter the password as prompted. When the blue progress bar is full, click Install Now.
If you are already using the latest operating system, or this method does not solve your problem, read on.
Method 3 Use The iOS System Repair to Repair Rhe OS without Data Loss
If you can't determine why your iPhone keeps turning off, your best bet is to fix iOS. However, if you choose to repair your iOS system through iTunes, it may result in wiping everything on your device. After iOS System Repair is used, the OS can be repaired without data loss on the device.
If your iOS device is experiencing operating system-related issues, iOS System Repair can help you eliminate errors and fix any iOS issues without losing any data. This OS repair tool is highly recommended by many famous media sites such as Makeuseof, Macworld, 9to5mac, etc.
You can refer to the following steps on how to use iOS System Repair to fix the issue of iPhone constantly shutting down.
Step 1 Install and start iOS System Repair on your PC/Mac. Then select 'Standard Mode'.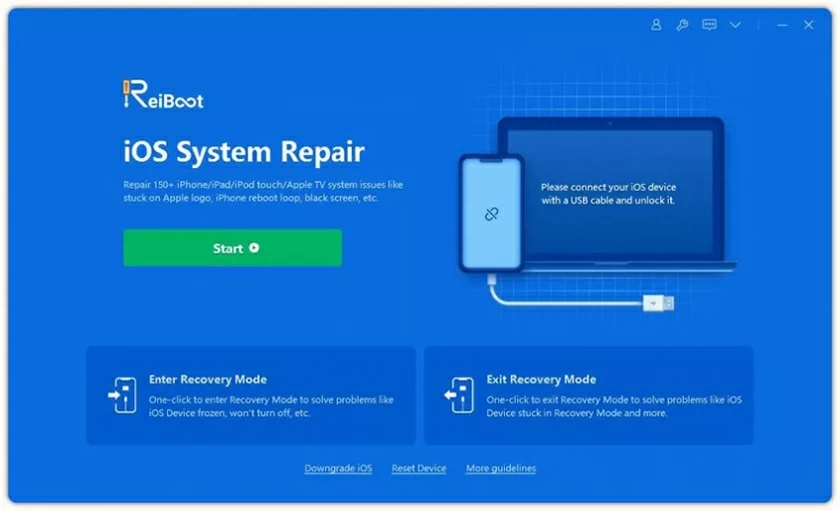 Step 2 Connect the iPhone to the computer using a USB cable, and then click 'Next' to continue. IOS System Repair will begin automatically detecting your iOS device. Then download the firmware suitable for your device from the list of available versions.

Step 3 After the firmware download is successful, click the "Start" button, and the operating system repair program will automatically repair the device.

Later, you will see that the repair process is complete and you will be able to use your iPhone normally.
Method 4 Using iTunes for Recovery (Data loss)
To solve the random shutdown problem, if you don't mind losing all the data on your iPhone, then you can try using iTunes to recover the phone. The detailed steps are as follows.
Step 1 Connect your iOS device to your PC using a USB cable and then go to iTunes.
Step 2 Set the iPhone to recovery mode as prompted by iTunes.
Step 3 Confirm that the iPhone is restored to factory Settings and click Restore. iTunes automatically downloads the software to repair the iPhone.
Method 5 Contact Apple to repair the hardware problem
If your iPhone continues to turn on and off after trying the above methods, there may be a hardware problem with the device. In this case, you'll need to contact Apple for a fix.
Summary
The above are several solutions we have introduced to solve the problem of iPhone constantly turning off. Among them, considering factors such as ease of use and data security, iOS System Repair is the most ideal choice. IOS System Repair can fix various operating system issues without causing data loss. In addition, with a user-friendly interface, novices can also quickly master. If your iPhone has the problem of repeatedly shutting down, you can try downloading it for free!