iPhone users often experience data loss due to iOS updates, accidental deletions, failed jailbreaks, lost/stolen iphones, etc. If your phone data is backed up regularly, you can restore iPhone data from the backup. However, if you do not have a backup, how do you restore lost iPhone data? The fastest and most reliable way is to use iPhone data recovery software. Such software can help you recover data from iPhone without backup.
People usually consider these factors when choosing data recovery software. For example, can I restore iPhone data without backup? How much does iPhone data recovery software cost? Is it safe to use iPhone data recovery software? Based on user feedback, as well as our repeated testing and comprehensive evaluation, we have selected the most popular top 6 reliable iPhone data recovery softwares for you. Now, let's learn more about it.
6 online ways to remove TikTok watermarks for free
1. iPhone Data Recovery(Ultdata)
According to comprehensive consideration, the iOS version of Geekersoft iPhone data recovery is the most comprehensive and professional iOS data recovery tool among all data recovery softwares. It can recover data from damaged iPhone, incorrect deletion, factory settings restoration, software update failure, etc. By improving the recovery success rate, the new version can retrieve up to 31 file types, which is far more than many tools on the market. So far, this application has helped millions of users around the world.
iPhone data recovery(Ultdata) software has the highest recovery success rate in the industry.
Free Trial for Win Free Trial for Mac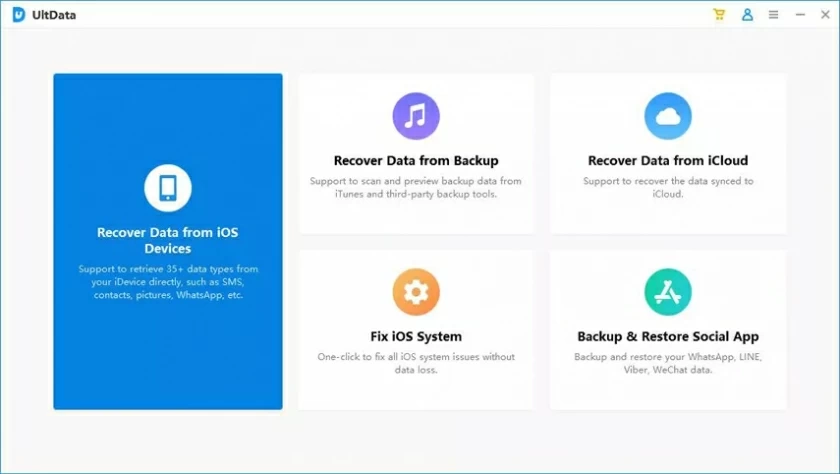 Advantages
Support the recovery of 31 types of iOS files: deleted messages, photos and videos, contacts, applications, WeChat, etc.
Restore iPhone without backup: It can find deleted data on iPhone without iCloud or iTunes backup data.
Restore data from a iPhone that cannot be opened: Even if your iPhone is disabled, you can get lost data from iCloud and iTunes backup. You can connect your new device to your computer and transfer data from your dead iPhone to your new iPhone.
Intelligent comparison: Help you quickly find out the items lost in iPhone backup files.
Fixed iPhone system, such as iOS update failure, stuck in recovery mode, black screen, etc.
Work well on Windows PCs and Macs.
Compatible with the latest iOS 16 and iPadOS 16, it can be used on the latest iPhone 14 and iPad Pro.
Recover your data 100% safely.
Maximum 30 day money back guarantee policy.
Disadvantages
The free trial version of Geekersoft iPhone Data Recovery( for iOS) allows scanning and previewing device data, but you must pay to restore your data to your iOS device.

2. Fonelab – iOS Data Recovery
Fonelab - iOS data recovery also helps users recover important files that have been deleted from their iPhone. It supports direct recovery from an iPhone or iTunes/iCloud backup. It also helps users back up data on their iPhone and avoid losing it again.

Advantages
Fonelab - iOS Data Recovery recovers 12 types of lost data on iPhone and iPad, including video, audio, photos, contacts, text messages, iMessages, and more.
Three recovery modes supported to recover data from the device, iTunes backup, and iCloud backup.
Compatible with the latest iOS 16 and iPhone 14.
Fix the most common iOS problems.
Disadvantages
A few iPhone data types are not supported.
If your iPhone device stores too much data, the scanning speed may be a little slow.
3. Dr.Fone – Data Recovery
Dr. Fone is a comprehensive data management tool. One of its features is Data Recovery, which is designed to help users recover deleted content from iPhone. It can recover 7 data types from iPhone devices, iTunes or iCloud backups.
Free Trial for Win Free Trial for Mac

Advantages
Support to restore 7 data types from iPhone device, iTunes or iCloud backups, such as contacts, messages, pictures, videos, application photos, etc.
Restore the phone to normal when the iDevice cannot access the operating system.
Compatible with iOS 15 and iPhone 13.
Run on Windows PC and Mac computers.
Disadvantages
The license fee is $60.95 per year for Windows and $69.95 per year for Mac, which is relatively high.
Upgrade to Pro version to access most features.
There is only a 7-day money back guarantee.

4. Primo iPhone Data Recovery
Primo iPhone Data Recovery is another powerful data recovery tool. It supports the recovery of 25 types of files, such as SMS/iMessage, notes, contacts, call records, photos, reminders, videos, etc. It provides three recovery models to help you recover data, regardless of whether there is a backup.

Advantages
Support 25 file types: SMS/iMessage, notes, contacts, call logs, photos, videos, etc.
Simple operation.
Fast scanning speed and high recovery rate.
Selectively retrieve functionality - retrieve only the files needed for recovery, rather than performing a full retrieval of all lost files.
Disadvantages
Viber and Snapchat recovery tools are not supported.
Only iPhone 7 (Plus) or earlier, iPadPro or earlier are supported.
5. ApowerRescue
ApowerRescue is also the one you can turn to when you find data missing. It can help you retrieve information from backup files and retrieve various types of files, such as photos, songs, contacts, information, reminders and notes. But on the whole, its user experience cannot compare with the first four. Because you may encounter various problems in this process, such as its inability to access iCloud data.

Advantages
Support to recover 13 types of data.
Easy to operate and use. The entire recovery process requires only 5 clicks.
Display the content you can recover from iPhone through the search results list.
Disadvantages
The recovery success rate is not 100%.
Unable to repair iOS system.
Only iPhone XS Max and previous versions are supported.
The license fee is $69.9 per year.
6. Gihosoft iPhone Data Recovery
Gihosoft is a full-featured data recovery software that can help users recover more than 12 types of files, including contacts, SMS, photos, audio and video files. Data lost due to iOS upgrade/jailbreak, accidental deletion or device loss or damage can be recovered.

Advantages
Retrieves 12 types of files, including contacts, messages, and pictures.
Support for recovering lost data directly from iOS devices or from iTunes and iCloud backups.
Supports the latest iOS 13, iPhone 11, and earlier versions.
The scanning and recovery process is secure.
Disadvantages
The supported file types are limited.
The supported iPhone models are limited.
The iPhone Data Recovery Pro is $59.95 per year.