It's easy to delete Apps on iPhone. Just click the "X" on the top to delete Apps as you long press the App. After deleting a program, all its associated data will also be deleted synchronously, so backup data is crucial, but this can not completely avoid unexpected situations, such as children accidentally deleting. If you want to recover the application, you need to take some measures. Next, we will introduce in detail how to restore the deleted application on iPhone.
Product recommendation: iPhone/iPad Application Recovery Software
Recovery Solutions for Deleting Applications on iPhone/iPad
Solution 1 Find deleted applications from the application library
Versions of Apple after iOS14 support storing downloaded apps in an application library. If you set the App to be hidden before removing it, then you can re-download the app from the App Store and unhide it by following the steps: Go to Settings > Home Screen > Add to Home Screen.

Solution 2 Reinstall the application through the App Store
The second way to retrieve the deleted application is to reinstall the deleted application from the App Store. Please refer to the following for specific methods.
To reinstall non-purchased applications:
Step 1 Open the App Store on your iPhone or iPad.
Step 2 Search to find the application you want to reinstall.
Step 3 Once you have found the application, click the Get icon to restore it.
Step 4 After the program recovery is completed, you can access and open it.

To reinstall the purchased applications:
Step 1 Open the App Store on your iPhone or iPad.
Step 2 Click "Update" from the bottom menu.
Step 3 Click the Purchased menu to view the purchased programs.
Step 4 Switch to "Not on this iPhone/iPad" to view all the apps you have purchased but have not installed.
Step 5 Find the application you want to restore and click the download arrow to complete the installation.
Solution 3 Retrieving iPhone/iPad applications from iTunes
If your iTunes works properly and syncs, you can also use iTunes to restore deleted applications.
Step 1 Launch iTunes and connect your iPhone/iPad to your computer.
Step 2 Click "Device" to select your iPhone/iPad.
Step 3: Applications found in Settings.
Step 4 Find the program you want to restore in the application, and then click "Install" next to it.

Note: If you re-download and install a deleted app, but it is not found on the screen, then you can check to see if restrictions are enabled on your iPhone, iPad, or iPod. The operation is as follows: Go to Settings > Screen Time > Content and Privacy Restrictions > Allowed Apps (make sure the switch is on).
Part 2 Using Data recovery software to recover deleted data from iPhone/iPad
If you delete more than applications, but iOS contacts, messages, photos and other data as well, you can try the following methods to retrieve them.
If these files have been backed up, you can directly restore them from iTunes or iCloud backup to iPhone/iPad. If there is no backup, you can use iPhone data recovery to complete this work.
Features of iPhone Data recovery:
Recover videos, contacts, SMS, notes, voice mail, pictures, etc., with a very high recovery rate.
Fully preview deleted data before restoring it.
Support data recovery through iTunes or iCloud backup.
Support recovery without backup.
Steps for recovering deleted data from iPhone/iPad using data recovery software:
Step 1 Install and start the iPhone data recovery software, and then connect iPhone to the PC.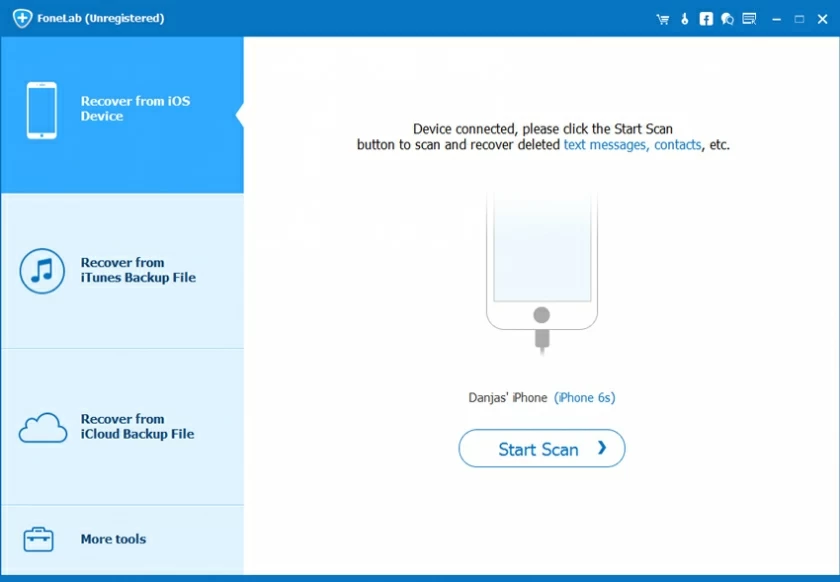 Step 2 Click "Start" to scan iPhone data.

Step 3 After the scanning is completed, select the files to be recovered, and then click the "Recover" button to complete the recovery.

You can restore your photos, videos, contacts, SMS, notes, voice mail and other files.
Related issues of iPhone/iPad application recovery
1. How to view recently deleted apps?
If you accidentally deleted an application on iPhone and don't know which application you deleted, you can click the profile in the upper right corner of the App Store > Purchased. Finally, click the "Not on this iPhone" tab to preview only the deleted applications.
2. How do I delete app history on my iPhone?
To delete the application history on iPhone, you can clear the storage space or delete the history of any application. Specific steps: "Settings">"General">"Storage space and iCloud usage">"Manage storage space", then find the application that takes up your space and delete it.
3. How to reinstall the deleted application on iPhone?
You can reinstall the deleted application from the App Store. Just open the App Store, search for the deleted app, and then select Download App.
Summary of iPhone/iPad App Recovery
Using the methods described in this article, you can quickly restore deleted applications on your iPhone, iPad, or iPod. In response to possible data loss at any time and anywhere, I suggest you install iOS data recovery software on your computer. This tool allows you to no longer worry about data loss.