"How to recover photos after factory reset without backup, as I restored my iPhone to factory Settings and did backup data with iTunes or iCloud?"
No one wants to lose important photos on their iPhone. When this happens, the first thing you should pay attention to is: To increase your chances of recovering photos from your iPhone. You should stop using your iPhone immediately and turn it off, because it won't work after the photos are lost. Because it doesn't really disappear after a photo is lost, it can be retrieved before the photo storage location is overwritten. Once it is overwritten, it will disappear permanently, and if you continue to use the iPhone, it is very likely that new content will be written to the storage location of the lost photos.
In other words, if you can't find the photo you're looking for in the "Recently Deleted" album, you should stop using your iPhone immediately, otherwise it will reduce your chances of successfully
recovering photos
on your iPhone.
How to recover permanently deleted photos from iphone without backup
Normally, Apple will provide iPhone users with two tools, iTunes and iCloud, to help users complete offline and online backup and restore data. However, if you are not familiar with these two tools, or you are not using them for backup, then there is no way to retrieve photos using iTunes and iCloud. In this case, how to recover deleted photos from secure folder without backup?To be precise, it is possible to retrieve lost photos with a third-party application such as Geekersoft PhoneRescue.
PhoneRescue is mainly used to recover photos and other content on devices such as iPhone/iPad. It uses a more advanced scanning engine and can perform photo recovery without backup files. During the recovery process, it will show you the photos you can get back and give you options to recover your files or not.
Here is a tutorial on how to recover permanently deleted photos from iphone without backup:
Step 1: Select "Recover from iOS Device" mode after connecting the device.
Connect the iPhone to the computer with a USB cable, and run the installed application on the computer. Select "Recover from iOS Device" on the startup interface, and then click the button in the lower right corner to enter.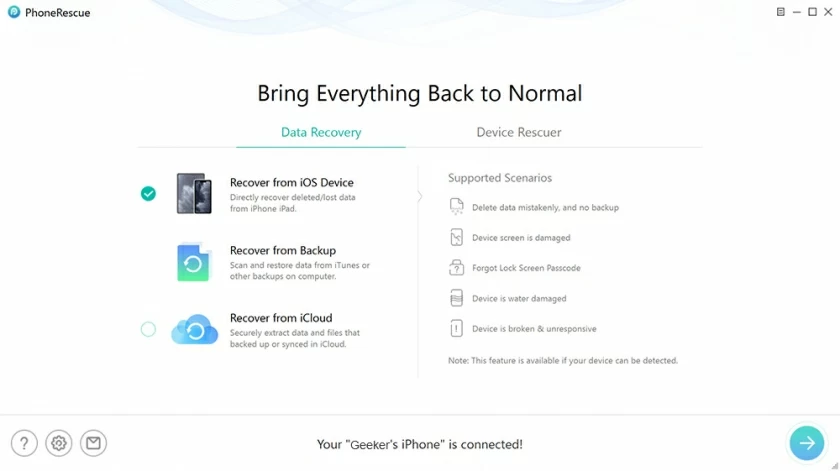 Step 2: Scan your iPhone/iPad/iPod touch for deleted photos
In this step, you can select the file types to scan and recover in the interface below. To recover photos, you need to select "Camera Roll", "Photo Stream", and "Photo Library" options, then click "OK". And then click "Next" button to start scanning. The entire process may take a few minutes.

Step 3: Select and recover the desired photos
After the scan is complete, you can see the contents of the recovered photos that you want to recover. If you need to recover, just click the "Photos" category on the left, tick the deleted photos, and then select Recover to iOS Device or Computer to complete the recovery.

Once the scan is complete, you can see the contents of the recovered photos. To restore, just click on the left "Photos" category, and check the deleted Photos, then choose to restore to your iOS device or computer.
Other issues related to restoring photos after factory reset iPhone without backup.
How to recover photos from a broken iPhone
If your iPhone is completely damaged and can't connect to your computer, here are two ways you can try.
1. Recover photos from iCloud backup
If you backed up your iPhone data on iCloud, you can restore photos from the iCloud backup to another device.
The specific operations are as follows:
Tap Settings > General > Reset > Erase All Content and Settings.
When you get to the "Apps & Data" screen, tap "Restore from iCloud Backup".
Enter your Apple ID and password to sign in.
Select the backup where the photos are located and perform a restore.

2. Restore photos from iTunes backup
If you have previously used iTunes to back up your iPhone on a computer, you can use iTunes to restore photos from the backup. For specific operations, refer to this article: How to get photos off broken/locked iPhone

Summary of how to recover permanently deleted photos iPhone without backup
Neither iTunes nor iCloud can restore photos on iPhone without a backup file, but the iOS data recovery tools can get it done. Overall, the software is relatively simple to operate and can guide you through the restoration of photos.
Special note: Backing up iPhone data is very important for all Apple users. In order to prevent subsequent data loss, be sure to make a backup.