"How to recover accidentally deleted iMessages?"
When you delete iMessages to free up space on your iPhone, or delete random messages from strangers and accidentally delete an important email or message, only to need to retrieve something important later, do you know how to get it back easily? Especially when you don't have a backup of your messages, it must be a rush. How to restore deleted iMessages without backup? We will give you a detailed introduction to help you quickly retrieve deleted iMessages. This method applys to the latest iOS 17.
PART 1 Can I restore deleted iMessages without backup?
Of course, you can recover deleted iMessage messages even when there is no backup. First of all, when a user deletes an iMessage message from an iPhone, where does the deleted data go? In fact, the iPhone stores the data in a database called SQLite. When a user deletes an iMessage, it simply changes from "allocated" to "unallocated," but the actual data remains in SQLite's database. Until one day, when the user creates new data, the space of these "unassigned" items is occupied and overwritten by new information, the deleted deletion iMessage really disappears.
In other words, if a deleted iMessage needs to be recovered without a free backup, the user should stop using the device the first time the data is lost. Any new data written to the device could overwrite deleted iMessage information and make it unrecoverable forever.
PART 2 How to Recover Deleted iMessage Without a Backup -iOS Data Recovery (The Ultimate Solution)
Whether it is due to accidental deletion, device corruption, virus attack, or iOS 17/16/15/14/13 upgrade resulting in the loss of unbacked up iMessage, you can use professional third-party data recovery tools such as iOS Data Recovery to recover. It is a powerful data recovery software that can help users quickly recover various types of data lost for various reasons, including iMessage, easy to use. iOS Data Recovery has become one of the most popular and powerful data recovery tools due to its advanced technology and 7*24 online service, which is well received by users. It supports recovery of deleted messages on mac/windows or iPhone devices.
The main features of iOS Data Recovery include restoring old imessages from iPhone 15/14/13/12/11/Xs/Xr/X without backup. The detailed steps are as follows.
Step 1 Install and start iOS Data Recovery, and then select "Recover" from iOS Device.
Free Trial for Win Free Trial for Mac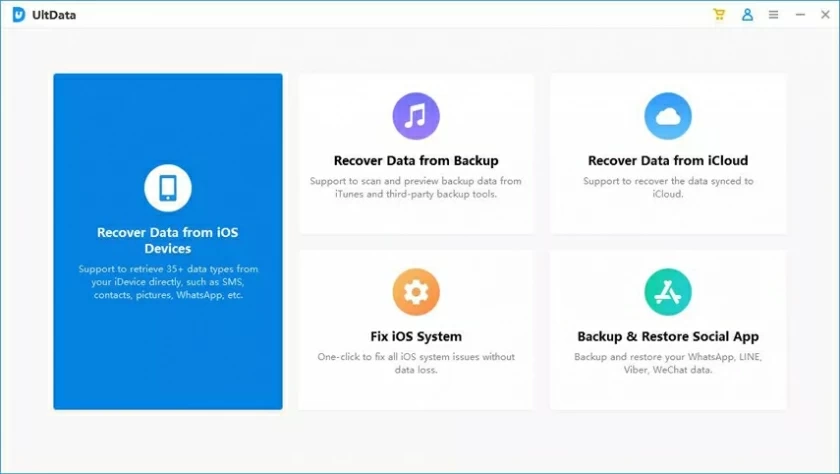 Start iOS Data Recovery on your mac/windows computer. Then click "Recover" from iOS Device on the left of the main screen of the data recovery software.
Step 2 Connect your iDevice to your computer
In the pop-up window you will see a prompt asking you to connect your iOS device to your computer. After connecting your iOS device to your computer using a USB cable, click "Next".

Step 3 Select the type of the deleted file that you want to restore
Follow the prompts to select the type of file you want to recover. For example, if iMessage is used, select "Messages". Then iOS Data Recovery will automatically scan all the messages on your device for you.

Step 4 Preview and restore the deleted iMessage
When the scan is complete, you will see a preview of all deleted imessages in the scan results. Then, select the message you want to recover and click the "Recover" button.

Step 5 Save the recovered and deleted iMessage
Select a location to save recovered messages to start the recovery process. iOS Data Recovery will recover deleted messages for you. The recovery process usually depends on the number and size of the files to be recovered.
The above are all the steps for using the iOS data recovery screen to recover deleted iMessages without backup, simple and fast. Without any technical background, beginners can quickly master it.
Summary
In the absence of a backup, we recommend that you use the iOS Data Recovery screen to recover deleted imessages. Because it does not have any impact on the existing data on the device, it is safe and reliable. iOS Data Recovery is a powerful recovery tool that can recover files in various scenarios. Even if you are using the latest iOS 17/16/15/14, the app can help you recover deleted iMessages!