"How do I recover deleted voicemails on my iPhone?"
If you've accidentally deleted your voicemail on your iPhone and are looking for a reliable way to recover it, don't miss this article. We'll show you some effective ways to retrieve deleted voicemails on your iPhone. Let's take a look at these methods to help you easily and quickly retrieve deleted voicemails on your iPhone.
PART 1 3 Ways To Recover Deleted Voicemails from Your iPhone
Many users have questions about whether they can retrieve deleted voicemails from their iphones. In fact, you can retrieve deleted voicemails from your iPhone, and there are many ways to do so. Whether you lost your voicemail due to accidental deletion or due to a software update, this article provides you with a solution to recover your deleted voicemail.
1. Recover Recently Deleted Voicemails from iPhone
If you recently deleted your voicemail after saving it on your iPhone, you can easily recover your deleted voicemail by following these simple steps.
Step 1 Turn on your iPhone and go to the Call app > Voice Mail > Deleted Messages.
Step 2 All deleted voicemails will be displayed in the pop-up window, select the ones you want to recover, and then click "Undelete".
2. Use Apple's Official Service iTunes to Backup and Restore The Permanently Deleted Voicemail on The iPhone
It's well known that Apple lets you back up all of your iPhone's data using iTunes. Therefore, by restoring an iTunes backup to your iPhone, you can also help you retrieve permanently deleted voicemails. However, this method will restore the entire iTunes backup data, including saved voicemails, contacts, videos, pictures, and more. For instructions on how to use iTunes backup to restore permanently deleted voicemails on your iPhone, you can follow these steps.
Step 1 Open iTunes on your Mac and connect your iPhone with a USB cable.
Step 2 Select your device according to the prompts, then click "Restore backup" and select the most suitable device backup according to the date and time of the backup file.
Step 3 Click "Restore" to begin the recovery process. Later, all backup data, including deleted voicemails, will be restored to your iPhone.

Note: Please back up the current data on your device before starting the recovery, because the recovery will cause the current data on the iPhone to be lost. Also, for the safety of your data, back up your iPhone data regularly, as a full backup will help you restore all your data quickly.
3. Restore Permanently Deleted Voicemail Through iCloud Backup
If iCloud is enabled on your iPhone, the data generated on the iPhone will be automatically backed up to iCloud when your device is connected to a mobile or Wi Fi network. Therefore, you can restore voice mail backups to iPhone through iCloud backup. Please complete the following steps on how to use iCloud backup to restore permanently deleted voice mail on iPhone.
Step 1 Open iPhone and go to Settings>Applications and Data>Restore from iCloud Backup.
Step 2 Use your Apple ID and password to log in.
Step 3 Select the desired iCloud backup based on the date and time of the backup data, and then click "Restore".
Step 4 Enter the Apple ID and password again according to the system prompt to confirm the recovery.
Step 5 After the recovery process is completed, the entire iCloud data will be restored to your iPhone. You will retrieve the deleted voice mail on your iPhone from it.

Note: Restoring permanently deleted voicemails on your iPhone with iCloud backup will delete all content and Settings. You can carefully review all the methods provided above and choose the appropriate method to retrieve permanently deleted voice mail iPhones based on your own situation.
PART 2 Easily Retrieve All Permanently Deleted Data on iPhone
In fact, in addition to voicemails, iOS users can also lose other data in the iPhone, such as videos, pictures, contacts, call history, and so on. The fastest and easiest way to recover all types of data is to use a third-party data recovery tool to retrieve lost or deleted data, such as iPhone Data Recovery. iPhone Data Recovery allows users to easily recover all permanently deleted data on their iPhone and has been well received by millions of users. iPhone Data Recovery supports data recovery from any iPhone model with all iOS versions, including the latest iOS 17. It allows users to retrieve data that has been lost for various reasons. iPhone Data Recovery will access the device's SQLite database to easily recover data. Even if there are no iCloud and iTunes backups available for data recovery, iPhone Data Recovery securely recovers permanently deleted data from your iPhone.
To recover permanently deleted voicemails from your iPhone using iPhone Data Recovery without a backup, you just need to complete the following steps.
Step 1 Install and start iPhone Data Recovery on your computer, then click "iPhone Recovery" to start the recovery.
Free Trial for Win Free Trial for Mac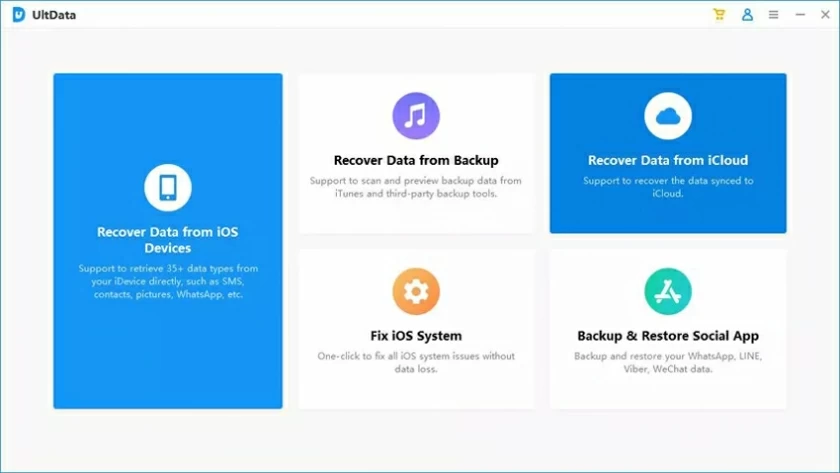 Step 2 Connect your iPhone to your computer via USB cable. Your device will then be automatically detected, please click "Next".
Step 3 The data recovery software will display all file types, select the file type option that you want to recover, and then click "Scan".

Step 4 At the end of the scan, you will see all the files that can be recovered. Select all the files that you want to restore and click Restore. You can then select a folder or create a new folder to save the recovered files. At this point, the recovery process will officially begin.

In addition, using iPhone Data recovery also allows users to selectively restore from iTunes and iCloud backups without having to restore the entire backup file.
FAQs about recovering iPhone voice mail
Q1 Can I recover deleted voicemails from my iPhone when there is no backup?
In general, if the voicemail is not in the recently Deleted Messages folder and there is no backup, it may not be possible to recover the voicemail. But you can try using iPhone Data Recovery to do that.
Q2 Can I recover voicemails deleted more than 30 days ago?
Voicemails that have been deleted for more than 30 days will be permanently deleted and cannot be recovered.
Q3 Can I recover deleted voicemails on my iPhone without a computer?
Sure, you need to retrieve deleted voicemails from your iPhone without a computer, you can check the "Deleted Messages" folder or recover deleted or lost files from your iPhone from iCloud backup.
Summary
These are the effective ways to retrieve deleted voicemails from your iPhone, including those available when there are backup files or no backup files. Among them, methods such as checking the "deleted messages" folder, restoring from iCloud backup and using iPhone data recovery are suitable for different situations, and you can choose according to your own needs. Whether you accidentally deleted your voicemail or lost it due to a system error, iPhone Data Recovery helps you retrieve all types of deleted iOS data safely and reliably.