Google Chrome is the most popular browser today. Whether you are a Windows user or a Mac user, Google Chrome works well with the operating system.
However, users often encounter some problems when using the Chrome browser, such as: "I use Chrome to see the music I like on YouTube, and I want to save it and listen to it again and again!" However, Chrome and YouTube do not provide download functions, which will be very annoying and inconvenient. In this article, we list the 5 best YouTube to MP3 Converter Chrome Extensions with which you can easily and quickly convert YouTube videos to mp3 or mp4.
Batch download YouTube MP3 with desktop downloader.
Top 5 YouTube to MP3 Converters Chrome
The converters of MP3 YouTube google Chrome listed below can help you download any file. Let us introduce them one by one.
Geekersoft YouTube to MP3
Geekersoft YouTube to MP3 is a very popular YouTube mp3 converter in Chrome browsers. It is a simple free tool to convert YouTube videos to MP3/MP4.
With Geekersoft YouTube Video MP3 Converter Google Chrome, you can download MP3 in 256 Kbps quality with just a few clicks on your browser. If you are considering a YouTube MP3 converter for chrome, don't miss it!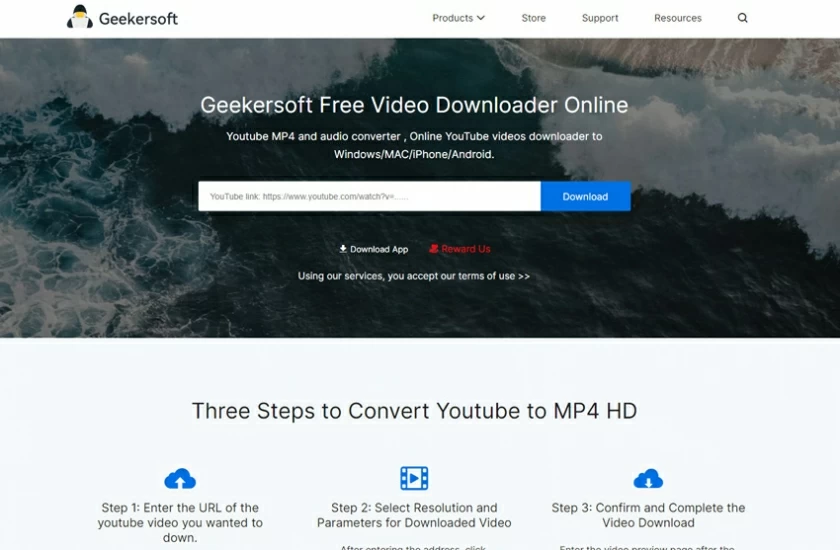 Chrome YouTube Downloader
ByClick is a special download extension on Google Chrome. It's a great extension to help users download all their favorite videos. Once installed, it can identify the video page the user is visiting and then offer to download it. In practice, the video can be downloaded with one click when you browse the video page. It works like a Google Chrome plugin.

YouTube MP3 Downloader
This YouTube MP3 Downloader is an extension for Chrome. To use this extension, you need to download and install it from the Chrome Store, and then add it to your Chrome browser.
Once installed, when you visit YouTube videos on Chrome, you'll see a play icon in the address bar. Click on the icon to convert the video to MP3 format.

Video2MP3
This YouTube Video MP3 Converter Google Chrome extension is very easy to use. You can install it and it will be one of the simplest video conversion extensions on Chrome. This extension provides two different options to convert videos. The download button will appear at the bottom of the video playback screen and you can choose according to your needs. In addition, the conversion process only takes a few seconds. It is fast.

Easy YouTube Video Downloader Express
Using this extension to convert MP3s on Chrome, you does not need to leave the page or copy and paste links. This extension provides a very simple conversion process that is compatible with different operating systems. To use this converter, all you need to do is click the "Download" button at the bottom of the video and select the quality of the conversion. Then wait until the conversion is complete and you can enjoy your MP3.

Summary of MP3 YouTube Converter Chrome
By the end of this article, it's no doubt clear how easy it is to convert YouTube videos to MP3 on Chrome. You can choose one of them to convert YouTube video to mp3 easily. If you have any questions or suggestions about this article, please check the feedback below.
FQA of YouTube converter MP4/MP3 Google Chrome
Q1. Does Google Chrome have a YouTube converter?
The answer is yes, there are many youtube-to-MP3 converter extensions on Google Browse. This article is our recommendation for products in this category.
Q2. Which is the best Chrome extension to convert YouTube videos to MP3?
Geekersoft YouTube to MP3 Converter is the best Chrome extension to convert YouTube videos to MP3. This Chrome extension works on almost all popular systems and browsers.