If you want to watch YouTube videos offline on iPhone, iPad or other iOS devices, it is very necessary to have a good YouTube to mp4 converter. In this article, we will show two ways to convert YouTube to MP4 on iPhone. You can easily convert YouTube videos to MP4 and download them to iPhone. Let's read the following and get right to the point.
Recommendation: If you can't wait to operate YouTube to mp4 iphone, you can go directly to YouTube mp4 downloader iphone.
Products recommendation:YouTube mp4 downloader
YouTube to mp4 iphone
How to download YouTube videos to MP4 on iPhone? you can download YouTube videos on your iOS devices easily with Geekersoft YouTube Downloader and Documents by Readdle.
Method 1 of YouTube to mp4 iPhone: Geekersoft YouTube Downloader
It's easy to download YouTube videos on an iPhone if it has proper Internet access. Try how easy it is.
Step 1: Go to YouTube on your iPhone and find the video you want to convert MP4 to, then click the "Share" button and copy the link.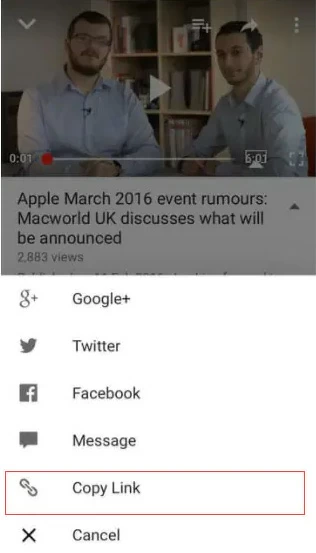 Step 2: Open Geekersoft YouTube Downloader using Safari on iPhone.
Step 3: Paste the video link into the input field and click the "download" button.

Step 4: After downloading the resource, you will see the option of MP4 in the video download list, and then click the "Download" button.

Step 5: In the video preview window that appears, click the menu and select "Download".

Method 2 of YouTube to mp4 iPhone: Documents by Readdle
This method is very convenient to use, but in fact, if you don't like online web tools, you can use the Documents by Readdle application. The Documents by Readdle program can be directly searched and downloaded from the App Store. Then you can download MP4 to iPhone in a similar way as YouTube video, let's see how it works together.
Step 1: Open the YouTube app on your iPhone and find the video you want to save as MP4. Click on "Copy Link".
Step 2: Follow up with Documents by Readdle. If you are using the program for the first time, follow the on-screen prompts until you reach the interface that says "Documents" at the top.

Step 3: Click the compass icon at the bottom of the "Documents" screen to open a web browser, search for "YouTube to MP4 converter" in the browser, and select the site you want to open.
Step 4: Paste the video link on the opened site and click the "Download" button.
Step 5: Select the format and quality of MP4, and then click "Download".
Step 6: Save the YouTube video in the save page. Click "Finish" on the board to start downloading the video.
Step 7: After downloading, find the downloaded MP4 file in "My Files".
Summary of YT to MP4 IOS
There are many solutions on the market that allow you to download YouTube videos, but many download services may contain malicious viruses or advertisements. Once you download YouTube videos from it, you are likely to get malware installed on iOS, so choosing a secure downloader is important. This article will help you avoid malicious viruses or ads. You can use these methods to download YouTube videos in MP4 format safely and quickly.