In the era of the internet, videos that integrate sound, light, and electricity are filling our lives in various ways. And video marketing has also become one of the most intuitive and effective ways for SEO and digital marketing. When we open the homepage of many websites and apps, we will see YouTube videos and other videos embedded on their pages. These types of videos are often well crafted, making you to want to save them to your PC. At this point, you need a URL video downloader. URL video downloader can help you quickly download without having to browse and browse video sharing websites to find video download links. Otherwise, you will also need the help of a video link downloader. URL Video downloaders help users get the link to the video they want to download directly and convert and save the video in the desired format, whether it's YouTube videos, Instagram or Pinterest videos. This article will provide you with a detailed list of the top 10 free online video downloaders to help you choose the best URL video downloader for saving URL videos easily.
Top 10 Free Online URL Video Downloaders
We will introduce a list of the top 10 URL video downloaders that can be used to save videos from URLs based on their compatibility, download speed, and supported video platforms.
Among numerous online URL video downloaders, Geekersoft is the most popular among users due to its excellent comprehensive performance and ease of use. The online URL video downloader has been available for many years and has been very mature and reliable in downloading and saving online videos. Use Geekersoft to help you easily download videos from major video sites like YouTube. Geekersoft works with all browsers, and you can install its downloader extension on your default browser (such as Google Chrome, Safari, Microsoft Edge) to download any video you want online. Best of all, GeekerSoftis 100% free. Come get Geekersoft download video from URL!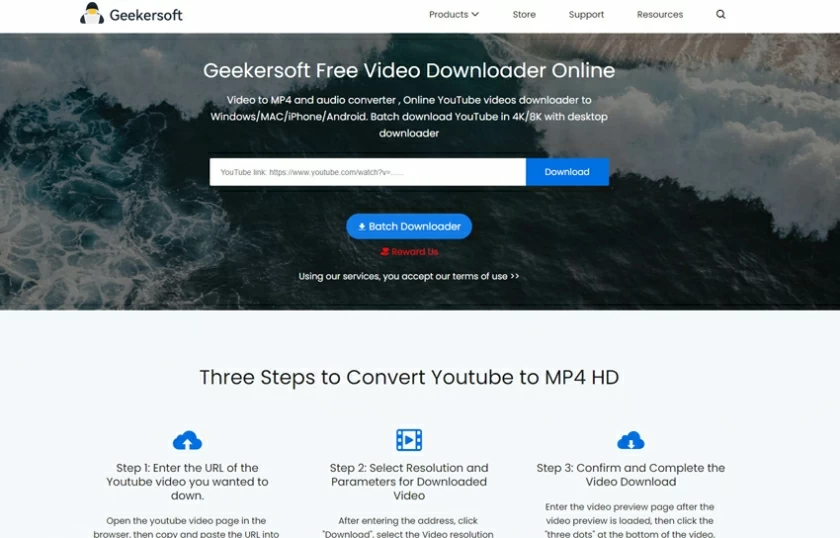 2. 9Convert
One of Geekersoft's strong competitors is 9Convert, a URL video downloader specifically designed for YouTube video downloads. It supports users to save any YouTube videos for free and without restrictions, making it a great URL video downloader. However, its biggest and only drawback is that the URL video downloader only supports downloading videos from YouTube and does not support other platforms such as Instagram, Pinterest, Vimeo, etc. 9Convert is a simple and easy-to-use high-quality YouTube video downloader. After you copy and paste the URL, you are ready to download. You can set the parameters of the YouTube videos you want to download according to your needs. For example, you can download the videos in 720p HD and 1080p full HD, or choose to save the videos as MP3 or MP4 files.

3. AceThinker
Regarding the online URL downloaders, you can also choose AceThinker, which is a downloader that can help you easily download and save any video. AceThinker is compatible with all popular video websites, including YouTube, Pinterest, Vimeo, Daily motion, Facebook, and Meotasafe. You can use AceThinker to download your favorite videos for free and unlimited from these websites. Come and experience this online video URL downloader. However, due to its download host server having APIs from other websites, its download speed is relatively slow.

4. Keepvid
Keepvid is also one of the recommended free online URL video downloaders. It has a powerful online URL video download function, which can help users download videos from multiple platforms such as Facebook and Instagram, as well as YouTube and Dailymotion, Keepvid, etc. You can choose to save the downloaded video in MP3 or MP4 file format according to your own needs, which is very convenient. Keepvid allows you to download videos quickly and worry free.

5. Video Downloader Pro
Video Downloader Professional Edition, as the name suggests, is a professional tool designed to provide video downloading services. The Video Downloader Professional Edition supports downloading any video and media files from any website through ULR. After installing the extension of this program on your favorite browser, it is very convenient to download music or videos. It can be compatible with mainstream browsers such as Google Chrome, Safari, Microsoft Edge, IE browser, Opera, etc. to download videos for free. Without buffering or delay, copy and paste URLs, and the Video Downloader Professional Edition can immediately help you download and save high-quality videos and music. This is a great video URL downloader.

6. Link Video
If you are looking for free online URL video downloaders, generators, and converters, Link Video is worth trying. It supports downloading and saving videos from mainstream video websites such as 4anime, 9gag, Akillitv Buzzfeed, Daily motion, ESPN, Facebook, IMBD, Instagram, Pinterest, Tiktok, and YouTube. In addition, you can also download movies, music, and other content from different websites and social media platforms through Link Video. Link Video supports users to save downloaded videos, movies, and music in MP3, MP4, and other file formats. This URL video downloader is a multifunctional tool.

7. Online Video Converter
Online Video Converter or OVC is a simple URL video downloader with multiple functions. With just a few steps, you can download and save videos from popular online platforms such as Facebook, YouTube, Twitter, Instagram, Vimeo, etc. on your PC or smartphone. OVC provides multiple ways to download, convert, and save videos, and users can also choose to save video files in MP4, MP3, or other formats. Simply copy and paste the video link, and you can save your favorite videos locally on your device.

8. Distillvideo
This is also an online URL video downloader that supports obtaining high-quality videos from Instagram, Facebook, SoundCloud, Daily Motion, Tiktok, and other mainstream platforms. Users can choose from full HD, 8K, 4K, and more. This URL video download tool has fast download speed and supports unlimited downloads. DistillVideo can download video in its original format and Distillvideo can also be downloaded in the required format, which is very user-friendly. You can download any video from the URL at high speed with just one click, so check it out.

9. Savevideo
Save video tube supports 100% downloading of videos online from many mainstream social media platforms, streaming websites, and other platforms. After copying and pasting the URL (video link), save the downloaded video in any file format! Whether it's Tiktok videos, Instagram scrolls, YouTube tutorials, or any online video you like, saving videos can help you quickly download.

10. Converto
Convertio is an online URL video downloader suitable for PCs and smartphones. Users can use it to download and convert YouTube videos in multiple formats for free. Although it is mainly used for downloading YouTube videos, it also supports downloading and saving URL videos from any platform (including Instagram, Facebook, Twitter, etc.). In addition, converto.io also supports users to choose file names, iD3 tags, video quality, file formats, and more. Converto.io, this video link downloader is simple, easy to use, fast, and reliable.

Bonus: Video Saver -The Best Video Editing Software for Beginners and Professionals
Video Saver is a simple, easy-to-use, comprehensive video creation and editing software. The interface of Video Saver is simple and user-friendly, and requires no technical background to master. At the same time, it also provides powerful and advanced features that can meet the needs of high-quality video editing professionals. Whether it's creating home videos, customizing professional advertising campaigns, YouTube videos suitable for social media platforms, Instagram scrolls, etc., you can use Video Saver to create and edit them. Video Saver is suitable for all types of customers, including professional videographers, screenwriters, content creators or video editors.
Summary
The above are the top 10 free online URL video downloaders we have introduced to you. You can choose according to your own needs. Choose any URL video downloader to easily save URL videos from Instagram, Facebook, Twitter, and more. If you need to edit and process videos, Video Saver is the perfect choice. It has multiple tools, and it is easy to use and is highly praised by users, making it one of the best video editing software. Whether you're a beginner or a pro, Video Saver has you covered.