At present, the search for MP3 converters on the Internet remains high, probably because more and more people like to listen to MP3 audio. The root reason may be that MP3 audio files are smaller than video files, which can save storage space and energy. However, with the increasing demand for MP3 audio conversion and the variety of MP3 converters available in the industry, it may be difficult for non-experienced users to choose between them. Fortunately, after repeated trial and comprehensive comparison, we have listed the top 8 free YouTube to MP3 converters for you, and detailed how to use them to convert YouTube to MP3. They all have their pros and cons, and you can choose the best one for your needs. Let's take a look.
Product recommendation: Batch download/convert MP3.
Top 8 Live Sports Streaming Alternatives to VIPBox
1. Geekersoft YouTube To MP3
Geekersoft YouTube To MP3, as one of the best and widely acclaimed free YouTube to MP3 converters and downloaders running online in the industry, can be compatible with various devices, such as iOS and Android phones, Windows PC and MAC. It can help users convert any YouTube video and music into 320kbps MP3 audio without loss of sound quality for free. Geekersoft YouTube To MP3 provides the preview feature so you can preview the converted MP3 files of YouTube videos or music. Best of all, this free service allows you to convert YouTube to MP3 without limitation, with simple interface, user-friendly operation, and no cost.
In addition, Geekersoft YouTube to MP3 is a comprehensive toolkit that allows you to download MP3 audio from thousands of major video streaming sites without registration, in addition to being used as a YouTube to MP3 converter. You can also use it to clip video files because it has a green, safe solution for video editing and recording.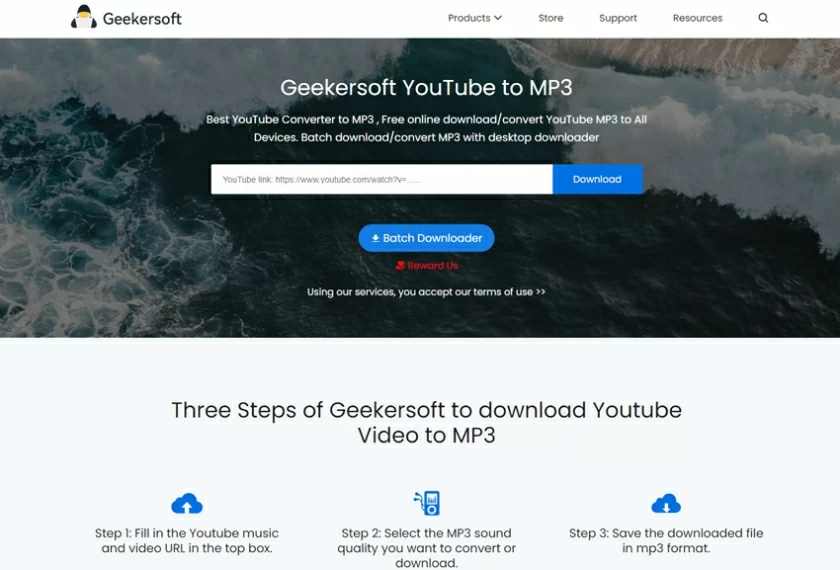 2. 4K YouTube to MP3
Another YouTube to MP3 converter and downloader application that can't be missed is 4K YouTube. You can convert YouTube to MP3 on PC, Mac, Linux and other platforms. Its interface is simple and easy to operate. What makes it stand out is that it can convert complete YouTube playlists and channels. There is no more convenient way. In addition, it supports downloading MP3 from other popular websites (such as TikTok, Facebook, Instagram, etc.).
Unfortunately, the free version of the YouTube to MP3 converter of the tool can only download 15 audio for free every day. It supports other output formats as well, such as M4A and OGG. In addition, if you want to speed up the conversion and unlock other restrictions, you need to pay for the advanced version.

3.ToMP3
Another tool for converting YouTube videos is ToMP3. It can convert YouTube to MP3 for free without any restrictions and registration. ToMP3.cc provides 6 MP3 audio output quality options.
The operation of this tool is very simple. Just copy and paste your favorite YouTube link into ToMP3.cc, and then click Start. Click Convert after selecting the MP3 quality you want, and then convert YouTube video or music to MP3 audio files. After conversion, you can download MP3 files directly.

4.SnapSave
Some of you know SnapSave, which is also a free online tool for converting YouTube to MP3. SnapSave works on devices such as PCS, tablets and iphones and supports a variety of audio output formats, such as MP3, OGG and MP4. And it's easy to use this tool to convert YouTube to MP3. All you have to do is paste the YouTube link into the input box, click Download, and then select sound quality to convert the YouTube video into an MP3 file. In addition to being an MP3 converter, it can also be used as a Facebook and YouTube downloader.

5. YT Convert
YT Convert is an online professional video converter and download tool with no restrictions. It supports YouTube to MP3 and YouTube to MP4 conversion and can also be used as a YouTube video downloader. To Convert a YouTube video to an MP3 file using YT Convert, you simply paste the copied YouTube video link into the converter and select the specified output quality. Before converting YouTube to MP3, you can preview the converted MP3 file size. YT Convert also supports exporting WEBM files, and it can also be used to download videos from major video sites such as TikTok and Facebook.

6.JoyConverter
As the name implies, JoyConverter is a device that allows users to easily and happily convert YouTube videos to MP3. As one of the best free converters for converting YouTube to MP3 format, JoyConverter can run perfectly on a variety of devices, including iPhone, Android phone and Windows PC. You can also use JoyConverter to download videos in MP4 and MKV formats. The steps to convert YouTube to MP3 are also very simple.

7.MP3Studio
MP3Studio is an App that allows you to convert YouTube videos or music into high-quality MP3 audio offline. It can be used on PC, Mac and Android, and can convert multiple videos to MP3 files at one time. The free conversion version of MP3 Studio only supports three free conversions, and there is no advertisement at all. If you have more needs, you need to buy the monthly, quarterly or lifelong advanced version.
This YouTube to MP3 converter supports the conversion of the entire playlist, and can convert up to 99 videos at a time, which is very fast. The MP3Studio has a built-in MP3 player that allows you to play converted MP3 files directly, which is very convenient. You can also use it to download YouTube videos for other formats(MKV and MOV).

8. SnapDownloader
The last one we want to introduce to you is the YouTube to MP3 converter——SnapDownloader, which supports the conversion of multiple YouTube videos or playlists at once, and can be tried for free within 48 hours. To learn how to convert YouTube to MP3, you can simply paste the URL of the YouTube video you want to convert into the converter, select the output format, and then start the conversion and download. You can also use SnapDownloader to download videos from CNET or more than 900 other sites. It also supports video conversion to other major formats, including MP4, AVI, WMA, AAC, and more.

Free YouTube to MP3 Converters Summary
To convert YouTube videos to MP3, you can use the YouTube To MP3 converter in the above list anytime and anywhere. In particular, Geekersoft YouTube To MP3 has no restrictions, which requires no registration, and is completely free. You can use it to quickly complete the high-quality conversion of YouTube videos to MP3 on Windows, Mac, iPhone, Android or Linux devices. Just have a try!