YouTube is a popular video website all over the world. Every day, countless netizens frantically upload and share videos on this platform. In 2015, its users exceeded 1 billion, and one-third of all Internet users in the world upload, post or watch videos on YouTube every day. In the process of watching a video, have you ever thought of extracting and downloading the audio or voice of your heart? If so, we recommend that you use the WAV format. WAV file format is jointly developed by Microsoft and IBM sound file format, and its sound file quality can be comparable to CD!
But unfortunately YouTube does not support WAV format, although its technology and service have been updated continuously since its inception. Therefore, you may need the help of a YouTube to WAV converter. Here, we introduce 7 YouTube to WAV converters, if you are interested, you can take a look together.
Batch Convert YouTube to WAV.
Top 7 Free YouTube to WAV Converters
1. Geekersoft YT Saver-YouTube to wav converter
One of the most common YouTube to WAV online converters that we recommend is Geekersoft. It is an free converter that allows you to convert and download YouTube videos to WAV format. Besides converting them to WAV, it also allows you to convert to other standard formats including AVI, MP4, FLV, MP3, AAC, M4A, WEBM, etc. In addition, it is an innovative modern converter that offers various features to make it more compatible with other programs. This includes converting YouTube videos to other video file formats of the highest quality.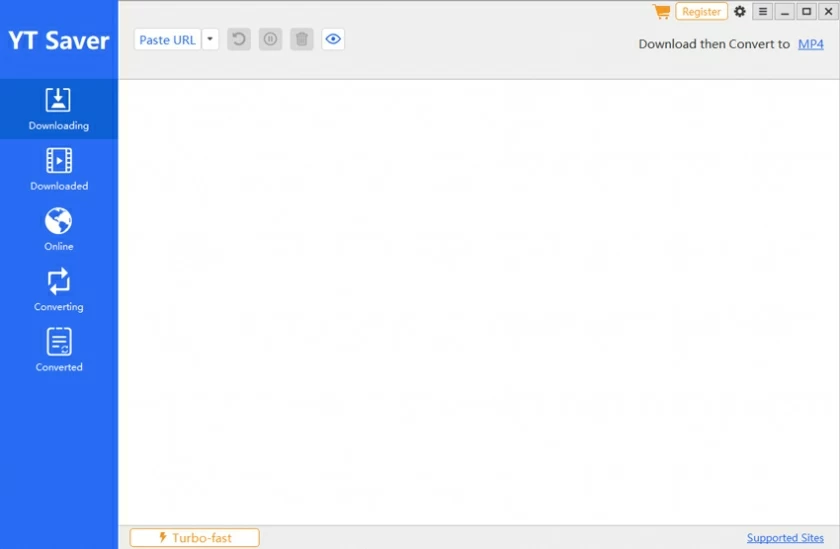 2. YT-Converter-YouTube to wav converter online
YT-Converter is the second YouTube to WAV converter we recommend. This is a very convenient video conversion tool with a very simple interface. It features a preview function that allows you to play videos and audio before you begin the conversion. This online YouTube to WAV converter is free and very fast.

3. Zamzar-YouTube to wav online
Zamzar is also one of the YouTube to WAV converters not to be missed. It can convert YouTube videos to audio formats such as wav, wma, etc. without downloading or registering. You can copy the ULR or just drag and drop the file to start the conversion. The conversion process may take a few minutes.

4. Coconvert-YouTube to wav file
You may have used Coconvert, an online YouTube to WAV converter that works on popular browsers like Google Chrome, Edge, Opera, etc. It can convert YouTube videos to WAV, MP3, MP4, Mwma, Web, M4A and other formats. What's more, Coconvert supports downloading or converting a playlist all at once, so you don't have to convert multiple times individually.

5. YouTube to MP3-YouTube video to wav
To convert and download YouTube videos to WAV format, Geekersoft YouTube to MP3 is also one of the alternatives. You can convert a video individually at a time, depending on your needs. This online site is very convenient and requires no payment or subscription.

6. YouTube Converter-YT converter wav
YouTube Converter is a well-known online free YouTube to WAV converter. It runs on most common browsers such as Chrome, Opera, Firefox, and Safari. YouTube Converter has no limit on the number of conversions, and the conversion process is ad-free.

7. SaveTheVideo-YouTube to wav converter free
SaveTheVideo supports downloading videos from YouTube, Twitter, Facebook, Instagram, Reddit, Tumblr, Vimeo and more. In addition to converting to WAV format, SaveTheVideo.com can also convert YouTube videos to MP4, AAC, M4A, AVI, WEBM, and MP3 formats.

How to Batch Convert YouTube to WAV
In addition to the above online tools, we will unlock another tool that can convert YouTube to WAV in batches. This tool is YT Saver, which can easily convert and download all YouTube videos, and also support the download and conversion of videos from more than 10,000 websites, such as Vimeo, Facebook, Xvideos, etc. Here's how to do it.
Step 1 Install and launch the YT Saver app.
Step 2 Find the video you want to download on YouTube and copy the video URL.
Step 3 Set the downloaded video format to WABV on YT Saver, then paste the URL to the downloader.
Step 4 Wait for the download to complete.