Vimeo is a widely used platform for hosting tutorials and videos with a simple and intuitive user interface and rich video content. But if you want to download vimeo private video, it becomes very difficult. Fortunately, there are several tools on the market that can do this, and we will provide some details in the following sections.
Product Recommendation: Vimeo video downloader.
Best Vimeo video downloader
1. YT Saver- Best vimeo video downloader
YT Saver is a tool that supports video download from 10,000+ websites. It is also the best Vimeo video download software. It can help users to easily download online videos to local devices, and the best thing is that YT Saver can be used to download vimeo private video. It can download all private Vimeo videos directly through the page address, and supports downloading Vimeo to MP4 / MP3, etc.
How to download Vimeo private videos on PC/Mac?
Step 1: Install and launch YT Saver, then select the output format and quality, and select Allow access to cookies from Chrome/Firefox.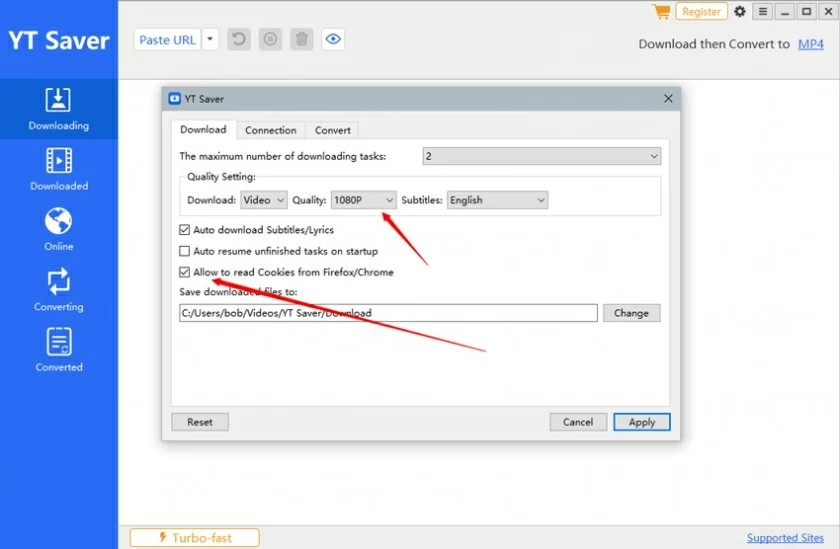 Step 2: Open the private Vimeo video in the built-in browser of the software and wait for the YT Saver to load the video.

Step 3: Click the download button on the interface to download.

Step 4: Find the vimeo private video in "Downloaded files" after the download is complete.

2. YTD Video Downloader - Vimeo video downloader for iPhone/Andriod
YTD Video Downloader is an easy-to-use free Vimeo video downloader that can download various formats including .mp3, .mp4, .wmv, .mov, and even .avi. The downloader also supports storing videos for watching directly on your device with YTD's integrated video player.

3. 4K Video Downloader -- Vimeo Video Downloader for PC
4K Video Downloader is a well-known downloader that supports users to download entire Vimeo playlists. 4K Video Downloader not only supports batch high-speed download of Vimeo videos, but also can be used to add subtitles and other editing operations. All in all, it is a feature-rich Vimeo video downloader.

4. iTube Studio - Vimeo Video Downloader for Mac
iTube Studio provides Mac users with a tool that supports downloading from 1000+ video websites, and it has functions such as downloading, converting, recording, etc. It is a great tool for Mac devices, and it downloads faster than many tools. It's one of the fastest Vimeo video downloaders on the market. Using iTube, you can export Vimeo videos to a common MP4 format for direct viewing on iPhone and Android phones.
Free Trial for Win
Free Trial for Mac

5. Vimeo Super Downloader - Extension for Vimeo Video Downloader
This is a Vimeo video download extension that can be used on the Chrome browser. After installing this plug-in, you can directly access and download Vimeo videos on Chrome. The working principle of this plug-in will be different from other downloaders, but it will be better in terms of convenience. After installing the plug-in, you can download Vimeo videos and enjoy them offline without having to install additional software.

Issues related to Vimeo Download
What is Vimeo private video?
Like Facebook's private videos, Vidmeo also provides several ways to restrict access to videos. By setting permissions on videos, only those with the link can access them, and Vimeo private videos won't be captured by search engines.
Is there vimeo video downloader online?
The answer is yes. here are many Vimeo Video downloader online, such as: OnlineVideoConverter, CatchVideo, etc. However, because online Vimeo downloaders have high network requirements and unstable downloads, there are certain risks. So we do not recommend them here.