YouTube is the world's largest video site, allowing anyone to watch videos directly on Android phones. So you can access YouTube videos on your phone, but what if you want to convert the video to MP3/MP4? In this article we will bring 3 to the best YouTube Converter for Android.
Notice:
1. To convert video or audio from YouTube, please contact the original creator for permission. Converting YouTube videos without permission is against YouTube regulations.
2. Apps like YouTube Converter have been removed from Google Play due to YouTube rules. If you install such programs, make sure your phone enables the settings to trust third-party applications.
3 Best Free YouTube Converters for Android Phones
Geekersoft
Geekersoft is a cross-platform YouTube converter for Android, iPhone, Mac, Linux or Windows. This online YouTube video converter is very easy to use, and you can complete and convert YouTube with just a few clicks. It supports converting YouTube videos to MP3, MP4, WebM and other files.
To use Geekersoft to convert YouTube video on Android phones, please follow these quick steps:
1. Open Geekersoft on your browser and copy the YouTube video link.
2. Paste the YouTube video URL into the input box of the Geekersoft page, and click Download to start the conversion.
3. After the conversion is completed, the downloadable conversion results will be displayed below. Select a quality you need and click Download to enter the preview. Click the menu in the preview interface and select "Download" to complete the entire conversion.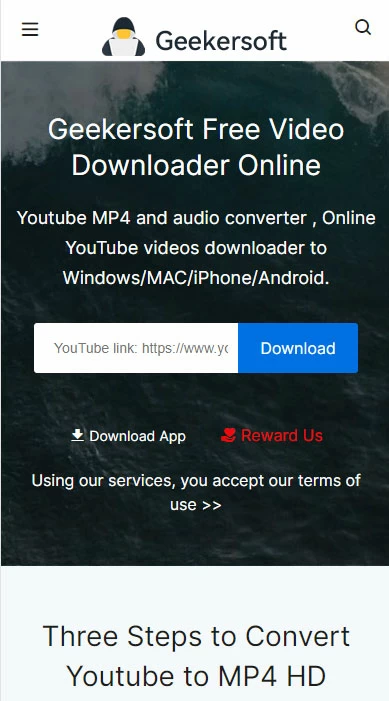 2. Peggo
You won't find the Peggo app in the Google Play store as Google Play has removed all YouTube converters. If you want to install it, you can download the APK file through the link in this article. After the installation is complete, you can use it to convert YouTube videos to videos or audios.

3. YTD Video Downloader for Android
This is a YouTube converter for Android that can convert multiple YouTube video files at the same time. You need to install the app on your Android device before using it.
The operation of YTD to convert YouTube videos is as follows:
1. After the installation is complete, open the interface and select the download option.
2. Open YouTube in your Android browser to find your favorite video.
3. Copy the video URL and paste it into YTD and click download to start the conversion. After the conversion is completed, the file will be downloaded to the Android device.