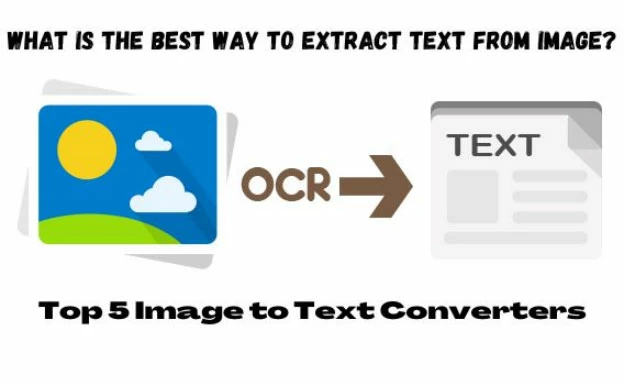 It has always been usual for businesses to share documents in both hardcopies and softcopies. Anyhow, sometimes it is necessary and better to have the documents in editable and searchable format. It is preferred to convert the hardcopies into textual documents that can be easily stored, shared, modified, and copied.  
Scan the document or simply take a picture, either way you can convert it in a text file. You can do it using an image to text converter.
The image to converters are based on optical character recognition. This technology facilitates the extraction of textual data from image files.
There can be some people who extract text from images without using any tool. Is it even possible? Yes, but it is very time-consuming.
Let's move forward to discuss how images can be converted into text, with and without tools.
Methods to Extract Text from Image
There are two ways to extract text from image, one that requires manual effort and one that relies on artificial intelligence (OCR).
Manual Extraction
You can read all the text from the image or document and write it manually. But there are high chances for errors and mistakes in this method. With all that, it takes loads of extra time and energy as well.
It is never recommended to extract from images on your own.
OCR-based Extraction  
There are some software applications and online tools that use optical character recognition to extract the text from the images. OCR scans the entire image and reads every text on it. Following the scanning process, it provides you with the text you can copy for use in your document files after it is complete.
There are so many OCR-based image to text converters available on the internet but to save you the trouble we have gone through every tool and found the best ones for you.
Let's go ahead to discuss the best OCR tools.
Top 5 Image to Text Converters
Here's the detail of the 5 best image to text converters that can be used to extract textual data from any type of image in any language and any format.
1. Geekersoft

Word recognition technology starts with simplicity. The Geekersoft online OCR is an easy-to-use web-based software that supports multiple high-accuracy image formats.
The interface is reasonably easy to operate with one click file uploading option. The image scanning might take some time, but the results are promising with accurate character recognition.
Once the image is scanned, you can download the scanned text as a document file. Due to its online availability, this tool is accessible from any device. You can also download its dedicated desktop version.
Once you upload an image on it, then all you have to do is verify the Recaptcha and then on the "convert" button. As a result, you will get editable text which you can copy or download in a DOCX file.
2.Ocr.best

Ocr.best is a quite useful tool to extract text from images without wasting any second.
It uses the most advanced OCR (Optical Character Recognition) technology available on the internet.
It has the ability to scan all types of images in different languages. Whether it is a simple text on an image, text on document or handwritten text on paper, you can extract it using this effective OCR tool.
Uploading an image on it is very simple and easy. You can copy-paste the image on it or you can follow the rule of drag and drop in which all you have to do is hold the picture and drop it on the webpage. Also, you can upload the image from dropbox and Google drive as per your ease.
Once you upload an image on it, then all you have to do is verify the Recaptcha and then on the "convert" button. As a result, you will get editable text which you can copy or download in a DOCX file.
3. Autoextract

Autoextract.ai is a free and powerful image to text converter. Many businesses and brands with high reputations and expertise use it as a data entry tool.
The system can scan any type of bill, account, and information related to business, and then give the results with high accuracy that can be downloaded in an excel sheet.
In order to complete this process, you simply have to upload the image containing the textual data that you want to keep as a record in your system in the form of an image.
In the result, the program will extract and align all the data from it on its own and ask you in what format to save it. You can save your extracted data in CSV/Excel and PDF format.
4. Onlineocr

Onlineocr.net is the widely used OCR all over the world. Because of its simple interface, it is most recommended for those who are just starting out.
It allows you to upload files with up to 15 Mbs of size. Once you upload the file, you have to enter the required information so you can get your file in your desired language and format.
As it allows the file with a large size, you can use to convert the text from files like scanned books, thesis, manual guides and more.
This software uses advanced OCR technology to extract any type of text from an image. Due to this, the result you get is highly accurate and the chances for an error get down to 0.001%.
5. Ocr space

Ocr.space uses advanced algorithms that are designed to make it faster and more accurate. The program directly asks you to upload a file or a link to the image you want to scan.
You can also have access to advanced features such as auto-rotate an image, recipe scanning, table recognition, and auto-enlarge content, which is recommended for users with low DPI. Moreover, the best thing about this tool is that all the features it provides are totally free of charge.
Like other OCR tools, you have access to choose format and language to save your text in your desired format and language. Moreover, it supports other languages which means you can translate text from an image or document into your own language.
The Ocr.space's pro plan also allows the user to download files without any size restrictions. If the user has access to the pro plan, they can upload multiple eBook's and large image files and get their text in PDF format.
Conclusion
It has become increasingly important to use OCR these days since the process of extracting text from images is becoming so time-consuming with high chances of errors when manually done.
That is why it is preferred to use online image to text converter that are based on OCR technology. Whether you are a beginner, businessman, student, or just a receipt collector. You can use these OCR tools and get accurate results in a matter of seconds.