Samsung's product ecosystem includes smartphones and tablets, and its users are spread all over the world. Samsung, like Huawei, Xiaomi and other well-known brands in the Android device industry has a good industry share. Many users now use the Galaxy tablet for work or personal business. With its advanced features, users enjoy a good experience and convenient service, whether it is browsing social media, playing online games, or completing complex work tasks, it is perfect.
The Samsung Galaxy has a built-in recycle bin for storing temporarily deleted files. However, many users do not know where the Samsung Galaxy recycle bin is located. Don't worry, we will give you details on how to quickly find the recycling bin of Samsung Galaxy phone and recover deleted files from it.
Product recommendation: Samsung Data Recovery
PART 1 Introduction to the Samsung Galaxy/ Tablet Recycle Bin
The Samsung Galaxy series includes a number of smartphones and tablets. The tablet has a built-in recycle bin that can be used to store deleted files. Samsung Galaxy Recycle Bin temporarily stores recently deleted files, which is convenient for users to quickly retrieve when they need to retrieve!
1.1 Is there a recycle bin in Samsung Galaxy/ Tablet?
The Samsung tablet has an integrated recycling bin. Similarly, Samsung phones have recycle bins where deleted files are stored. However, different versions of Samsung phones have different recycling bins. Samsung's Galaxy S6 and later phones, for example, have a recycle bin in their Gallery app. Users simply open the Gallery app and click on the album labeled "Recycle Bin."
If you're using a Samsung phone that doesn't have a recycle bin and you need to retrieve deleted files. You can recover deleted files by other methods. For example, use Android Data Recovery third-party data recovery tools, which help you scan your device for deleted files and then restore them with the click of a mouse.
1.2 How to find the Samsung Recycle Bin? How to retrieve deleted photos, contacts, videos, audio from Samsung Recycle Bin?
The Samsung Recycle Bin folder is a hidden folder that stores all the data that the user has deleted, including photos, contacts, videos, audio, and more. Once the Recycle Bin is found, the user can recover any file by simply selecting the file that needs to be recovered and clicking "Recover". Files stored in the recycle bin will be automatically deleted after 15 days.
If you don't find the Samsung Trash folder, it may be because you haven't recently deleted any files on your device, and the folder is only created when you delete files.
When you accidentally delete files while using a Samsung device, please check the Samsung Trash folder for recovery first, and then restore by other means.
For how to find the Samsung recycle bin location, you can refer to the following steps.
Step 1 Open Samsung and click "My Files".
Step 2 Select the three points at the top. You will see the options for the "Recycle Bin".
Step 3 Click "Recycle Bin".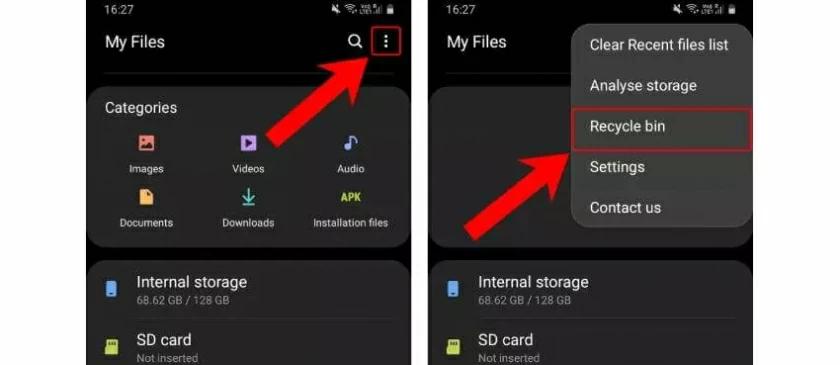 We know that the Android operating system provides users with a Recycle Bin function. So, opening the Gallery gives you access to the recycle bin on your Samsung Galaxy device.
PART 2 How to Retrieve Deleted Photos/Videos from Samsung Recycle Bin?
After the above steps, you already know how to find the photos/contacts recycle bin in Samsung tablet in detail. On how to recover deleted photos/videos from Samsung Recycle Bin, you just need to click your mouse.
Once you find the Samsung Recycle Bin, follow these steps.
Step 1 Select the photo or video that you want to restore.
Step 2 Click "Recovery".
PART 3 How to Retrieve Permanently Deleted Photos/Contacts on My Samsung Device?
The Recycle Bin on Samsung devices only stores files deleted within 15 days. After more than 15 days, the Samsung Galaxy tablet will automatically delete these files permanently. On how to recover permanently deleted files from Samsung Galaxy device, we recommend you to use Android Data Recovery software.
For instructions on how to use Android Data Recovery to find lost photos/contacts in the Samsung Recycle Bin, please refer to the following steps.
Step 1 Install and open the data recovery software on your Windows, then select the "Recover Phone Data" option.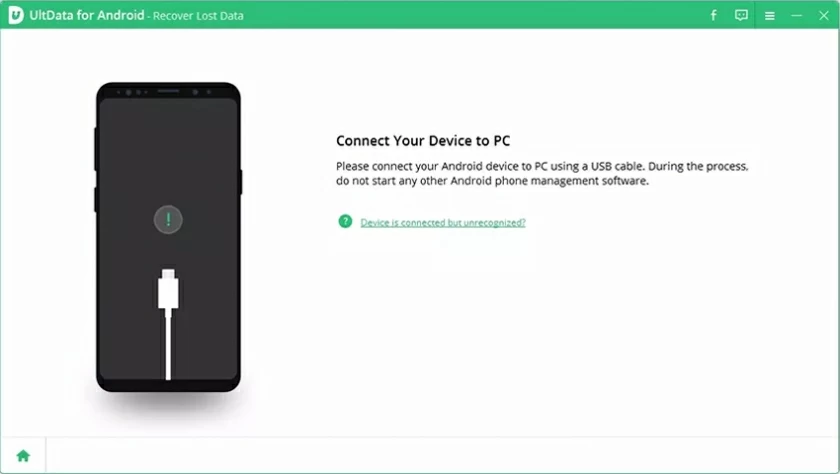 Step 2 Connect the Samsung mobile phone to the PC through the USB cable to scan and recover the data on the device. Perform the scan according to the instructions of Android Data Recovery.

Step 3 After the scan is complete, you will see all the files that can be recovered. Select the file you want to recover and click the "Recover" button.

PART 4 How to Empty the Recycle Bin on My Samsung Galaxy/ Tablet?
If your Samsung device indicates insufficient storage space, then you need to clean the Recycle Bin on your Samsung Galaxy/tablet. We suggest you try the following steps on how to clear junk or my files, contacts, recorder, and Samsung notes from your Samsung phone.
Step 1 Open the Google Album app from the Samsung Galaxy/tablet.
Step 2 If you enter a Gmail account to log in.
Step 3 Click on the "Library" option. Then go to the trash can/trash can and select more options.
Step 4 Click on "Permanent Delete".
Summary
For Samsung Galaxy/tablet users, if you want to recover some files that were accidentally deleted within 15 days, you can try the Recycle Bin. However, after 15 days, the files in the Recycle Bin have been permanently deleted. Then Android Data recovery for Android system is an ideal choice. It helps users quickly recover data from smartphone devices, Google Drive and proxy Android devices, safely and reliably.