Have you ever encountered the problem of Snapchat Account being locked? Do you know why Snapchat locked your account? How long will it be locked? What are the methods to unlock Snapchat account? Don't worry, we will answer for you one by one.
Snapchat is one of the most popular instant photo sharing applications among young iPhone users, attracting a large number of users because of its privacy.
However, Snapchat is facing more and more challenges while developing and growing. For example, user experience also faces some problems. Many users said that their Snapchat account was locked and they were looking for ways to unlock it. If you have also encountered the problem of Snapchat Account being locked, and want to know why Snapchat locks your account, how long it will be locked, and what methods are available to unlock Snapchat Account, please read the following in detail, which we believe will be helpful to you.
Product recommendation: Snapchat recovery tool
Generally, Snapchat accounts are locked for the following reasons.
1. Use an illegal or unsupported third-party application or plug-in, such as Phantom, 6snap, etc.
2. Sending spam, including unsolicited Snaps or messages in chat, and other violations of Snapchat management measures.
3. Too many friends were added before you finished verifying your email or phone number.
4. Snapchat update application has bugs.
Snapchat may lock your account for hours or days for different reasons. Of course, if the problems are serious, permanent locking is also possible.
Part1: 6 ways to unlock Snapchat account on iPhone
If your Snapchat account is temporarily locked, just wait a day and try to log in again. Normally, you can unlock and log in to your Snapchat account again. However, if your account is locked for a long time, you may need to try the following unlocking methods.
Option 1 Go to Snapchat website for unlocking your account
If your account is temporarily locked, you can visit the Snapchat website in a few hours to unlock your Snapchat account. The related operations are very simple.
Option 2 Uninstall the third-party Snapchat plug-in
If your Snapchat account is locked due to the installation of a third-party plug-in, you can try to completely uninstall the plug-in from your iPhone, and then try to login again. If it still doesn't work, you can try to update your iOS system to the latest version, and then uninstall the program to install Snapchat.
Option 3: Send an email to Snapchat to apply for unlocking the account
In general, after you've been locked, Snapchat will likely unlock your account and send you a new password. Before that, you can also take the initiative to send an email to the Snapchat User Service Center to apply for unlocking your Snapchat account. Of course, you can also ask for help by tweeting @SnapchatSupport.
Option 4 Reconnect to the Internet
In addition, you can reconnect to the Internet by putting your phone in airplane mode and turning it back on.
Option 5 Hard reset on iPhone
Hard reset is another solution to the Snapchat lock problem. The operation process is as follows.
For iPhone 8 and newer models: Quickly press and release the volume down button>Quickly press and release the volume up button>Press and hold the sleep/wake button until the shutdown slider appears>Move it from left to right.
For pre-iphone 8 models: Press and hold the Home button and the Sleep/Wake button at the same time until you slide to the Shutdown slider. Do not release the button; Keep pressing and holding them until you see the Apple logo.
Option 6 Reinstall Snapchat
Generally, reinstalling the app can solve most program related problems. Therefore, the last method is to uninstall Snapchat, and then download and install Snapchat again from the App Store or Snapchat official website.
Part2: Steps to unlock a permanently locked Snapchat account
The permanently locked Snapchat account can be unlocked by contacting the Snapchat official.
Step 1 Enter Snapchat Support>Select "Contact Us">Choose "I have a login issue">"I can't log in to Snapchat."
Step 2 Select "I forgot my password" or "I think my account has been locked". Then select Yes at the bottom of "Still need help".
Step 3 Fill in the personal account information according to the prompts, so as to feed back the locked status of your account to Snapchat.
Step 4 Wait for Snapchat to unlock your account.
Part 3: Restore Snapchat messages and chats using Snapchat recovery tool
The method of unlocking Snapchat account has been introduced to you. However, you may also encounter the loss of Snapchat messages, photos, videos, or chat records due to accidental deletion, disk formatting, or other reasons.
Is there any way to help recover lost Snapchat data? After trial and comparison, we recommend you use the iPhone data recovery. This is an excellent Snapchat recovery tool that can easily help you find lost Snapchat data!
Step 1 Download and install, and start iPhone data recovery . Open the software, click Restore from iOS Device on the left, and then click Start.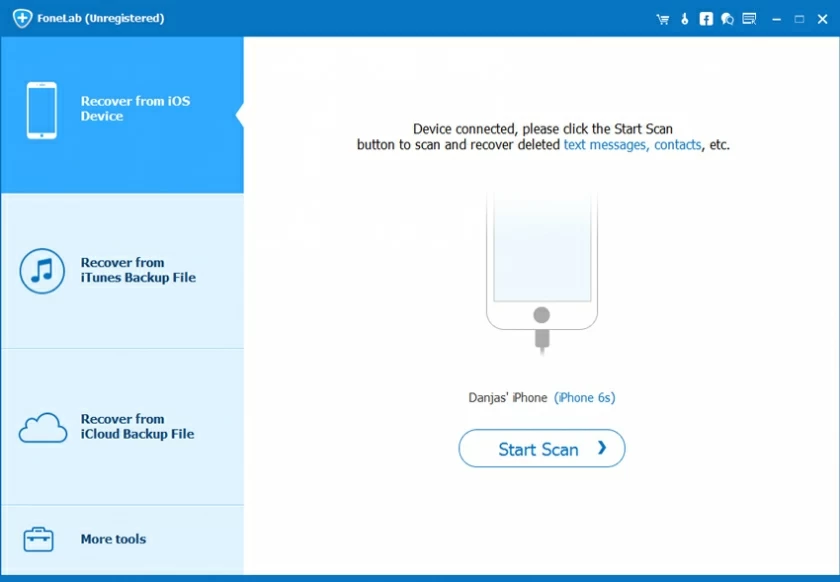 Step 2 Connect iPhone to your computer. iPhone data recovery will automatically scan your iOS device to scan the lost Snapchat data for you.

Step 3 After the scanning is completed, click the Restor button to restore the data you need, such as photos, videos, audio, contacts, SMS, notes, voice and other important files.

Summary of How to Unlock Snapchat Account on iPhone
This is all about how to unlock Snapchat account on iPhone. I hope it can help you. If data is lost in the process of unlocking, you can use iPhone data recovery to retrieve the lost data. It won't disappoint you.