With the development of technology, in addition to written communication, many other ways of communication have changed people's lives, such as pictures and voice. Among them, voicemail is a non-instant voice delivered by mail, which enriches the way modern people communicate and allows you to selectively listen to or save part of the voice message. However, many users have experienced voicemail loss for a variety of reasons, such as accidental deletion, virus attacks or iOS upgrades.
If you accidentally delete contacts on your iPhone, how can you quickly recover them? As is well known, deleted photos are known to temporarily reside in photo recycling bins or trash cans, where they can be retrieved for a specified period of time (typically a month) by simply selecting and clicking Restore. Don't worry, we'll show you a few easy and quick ways to recover your deleted iPhone contacts.
In fact, if you've backed up your contacts via Gmail or iCloud, you can easily restore them to your iPhone, and the deleted contacts will be found. However, what is the way to restore a deleted contact from iCloud to another iPhone? Don't worry, we also have solutions for you, such as using iOS data recovery to recover. Read this article to learn how to recover deleted iPhone contacts.
Product recommendation: iOS Data Recovery
Free Trial for Win Free Trial for Mac
PART 1 Restoring iPhone Contacts without a Computer
First, we'll show you how to restore your contacts via iCloud contact syncing or Gmail backup without a computer, whether by accident or mistake you've deleted your iPhone contacts, as long as you're backing up your iPhone regularly.
Method 1 Restore deleted contacts by disabling and enabling Contact synchronization in iCloud
iOS users should know that if you have contact syncing enabled on your iPhone, your iPhone contacts will continue to be synced to iCloud, and you can access and restore deleted contacts at any time. You can restore your contacts by following these steps to sync and unsync contacts from iCloud.
Step 1 Turn on your iPhone and go to Settings > Apple ID Account Name.
Step 2 Select iCloud from the menu, find the contact option and turn off sync.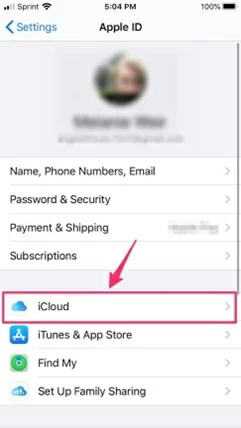 Step 3 A pop-up prompts you to delete or retain a contact. Here, if you want to delete all previously synced contacts from your iPhone, you can choose to delete them from my iPhone. If you want to keep contact information, please choose to keep it on my iPhone.

Step 4 Turn on Contact Sync again and select Merge. Later, you will be able to access all of your deleted contacts.

Method 2 Restore deleted contacts on iPhone from Gmail
In addition, to restore iPhone contacts that have been deleted by mistake, you can do so using Gmail. To find out how to restore deleted contacts on your iPhone through Gmail, follow these steps.
Step 1 Turn on your iPhone and go to Settings > Mail > Accounts.

Step 2 Select the contact account you want to restore on the iPhone, such as Gmail.

Step 3 Switch the contact option to enable synchronization.
PART 2 How to Recover Deleted iPhone Contacts from iCloud Backup
As we all know, iCloud backup can only be restored to the device when you see the Hello screen on the iPhone. When you need to clear all contents on the iPhone, you can set it through the iOS Assistant. In addition, it is recommended that you use iOS data recovery to back up your current data. Here's how to restore a contact from iCloud:
Step 1 Open iPhone, go to Settings>General, click Reset and clear all content and settings.
Step 2 Open iPhone again and go to "Applications and Data">"Restore from iCloud Backup". At this point, you need to re-enter your Apple ID and password to continue with the next step.

Step 3 Select the latest backup data to restore, and later all contacts, apps, music, and other data will be restored from the iCloud backup only to the iPhone.

PART 3 How to Recover Contacts from the iCloud Website
iPhone contacts are constantly backed up to their associated iCloud account, so users can be restored from iCloud in the event of accidental deletion. How to recover lost or deleted contacts from the iCloud website? Firstly, you need to prepare a laptop or computer to recover contacts from iCloud according to the following steps. Please note that the backup can only be restored after your contacts have been deleted from iPhone.
Step 1 Use a laptop or browser on your computer to open the iCloud website, and then log in with the same Apple ID and password as your iPhone device.
Step 2 Click on "Account Settings" and select "Restore Contacts" from the Advanced menu.

Step 3 Click the restore button next to the backup data containing the corresponding date of the deleted contact.

Step 4 Click Restore again.
With these steps, you can restore your iPhone contacts from the iCloud website. Easy!
Part 4 How to Restore Deleted or Lost Contacts to Another iPhone
The mistake of deleting contacts from the iPhone happens all the time, but luckily the deleted contacts remain on iCloud. So if you want to restore your lost contacts to your iPhone, we have a very simple and reliable solution for you. That is to use iOS Data Recovery to restore mistakenly deleted or lost iPhone contacts from iCloud to iPhone devices, which even novice users can quickly master.
iOS Data Recovery (UltData) is an excellent comprehensive data recovery software. It provides data backup, recovery, transmission, and import and export to a computer. In addition, it supports transferring data from iCloud to your phone (iPhone, Android or Samsung). So iOS Data Recovery is a perfect choice if you want to restore deleted or lost contacts to another iPhone!
Free Trial for Win Free Trial for Mac
IOS Data Recovery - Restore lost iPhone contacts
Backed up iCloud contacts can be easily transferred to any phone, such as an iPhone with an Apple ID or an Android device.
How to restore a lost contact from iCloud to another iPhone, please refer to the following steps:
Step 1 On your device, download, install, and start iOS Data Recovery. Connect your iPhone device with a USB cable and then switch to recovery from iCloud.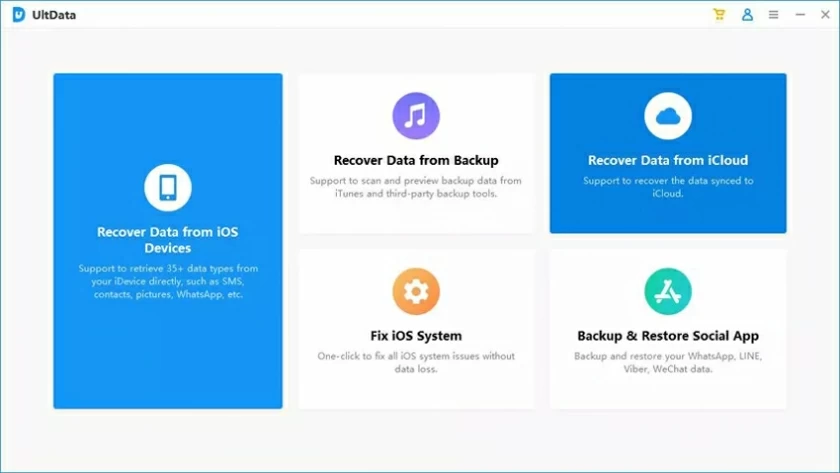 Step 2 Select the Phone Transfer > iCloud to Phone option to restore the contact from iCloud to the specified iPhone device. At this point, you'll need to log into your iCloud account.

Step 3 Select the data you want to restore from iCloud to iPhone, for example, contacts, and click Restore to the device.

Step 4 Click "Start" in the window that pops up to start the recovery. Later, iOS Data Recovery will automatically restore your contacts from iCloud to iPhone in seconds.

You can then view the deleted contacts on an iPhone with a different Apple ID.
Summary
If you have also lost iPhone contacts due to accidents or malfunctions, or if you are looking for ways to recover deleted contacts from iPhone, don't miss this article! We provide you with detailed guidelines for restoring lost or deleted contacts from iCloud backups, Gmail, or iCloud websites. You can recover contacts even without a computer by switching on/off sync and Gmail methods. In addition, you can use iOS data recovery to restore lost contacts to the current iPhone or other iPhone devices, very convenient.