"How to recover lost or deleted text messages from my iPhone without a backup?"
If you accidentally delete important text messages from your iPhone, do you know how to recover them? Don't worry, there are effective solutions to recover deleted text messages from your iPhone. To save you time and effort, this article will detail several effective ways to quickly retrieve deleted text messages from your iPhone without a backup.
PART 1 Can I recover deleted text messages on my iPhone with/without backup?
This is a complex issue that needs to be analyzed on a case-by-case basis. Let's take a look.
Scenario 1 When backup files exist
If you have backed up your iPhone using iTunes or iCloud, you can easily restore deleted messages to your device for free as described in Part 3. However, you won't be able to view the backup files before restoring them. This solution may not work well if the deleted text messages are not included in the backup file.
Scenario 2 When there are no backup files
"How do I retrieve deleted or lost Notes from my iPhone?"
Have you ever had a situation where you didn't manually delete any notes from your iPhone, but some notes just disappeared? This can be really annoying especially when important data is lost. At this point, you must be eager to find the causes of the problem and the solutions. Let's take a look at the common reasons for lost iPhone notes, and then we'll give you 5 effective ways to find the location of lost notes on your iPhone.
No matter how your iPhone notes disappear, don't worry, iPhone Data Recovery software can help you quickly find your lost iPhone notes. It allows the user number to preview all deleted data before final recovery. Start iPhone Data Recovery immediately after downloading it for free on your computer and launching it.
PART 1 Common Reasons Why iPhone Notes Disappear after iOS Update
1. The iOS update failed
If the iOS update is not successful, such as the update process is interrupted or incomplete, or some other system update error can cause certain data on the iPhone to be deleted, including notes, Gmail notes, photos and messages.
2. Accidental deletion
In fact, if iOS users delete a large number of notes in bulk, they may accidentally delete some useful notes.
3.Gmail Notes Settings are incorrect
If you sync your notes with your Gmail account and turn them off, it will cause Gmail notes to disappear on your iPhone.
If your Gmail email address or password changes, but you don't update it in your iPhone Settings, it may also cause some Gmail notes to not sync.
4. iPhone issues
Some minor issues with the iPhone can also cause notes to disappear. This can be fixed by simply restarting the iPhone.
However, there are many more reasons for the disappearance of the iPhone Notes that are not covered in this article. Don't worry, we've rounded up 5 effective solutions for you. You can choose the right solution for your situation.
PART 2 5 Ways to Find Where Notes Go on your iPhone after An iOS Update (iOS 17 supported)
Method 1 Find Missing iPhone Notes from The Recently Deleted Folder
The easiest way to retrieve missing iPhone notes is to look for a folder called "Recently Deleted." Deleted notes are generally found in the Recently Deleted folder on the iPhone within 30 days. For users of iOS 11 and later (including iOS 17), simply locate the "Recently Deleted" folder in the Note app and follow these steps:
Step 1 Launch your iPhone, open the Notes app, and find the Recently Deleted folder.
Step 2 Click "Edit" and select the notes you want to recover.
Step 3 Click the "Move" option, then select a specific folder on your iPhone to start moving.
Tips:
1. If you don't find the Recently Deleted folder on your iPhone, it may be because you haven't deleted any notes recently or the notes in the folder have been permanently deleted.
2. You may not be able to find the Recently Deleted folder if you are not using an upgraded version of the Notes app.
3. If you are looking for a deleted shared Note and you are only a participant, then your deletion of the note will only remove it from the list, not from the owner's or other participant's list, and deleted memos will not be moved to the Recently Deleted folder.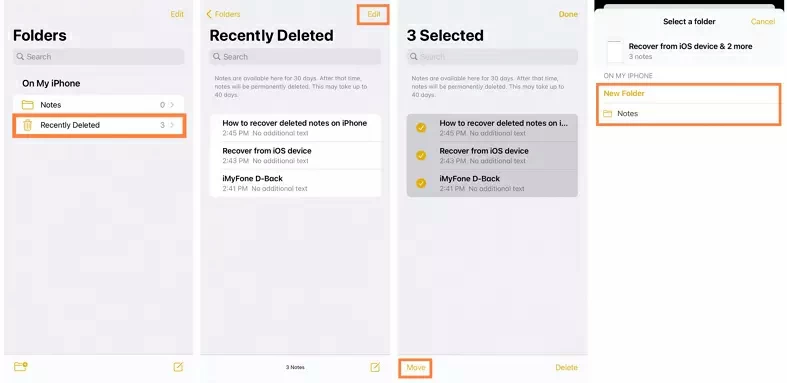 4. When you delete Notes from the folder synced with your email account, those deleted Notes are not saved to the Recently Deleted folder.
5. Deleted notes will remain in the Recently Deleted folder for 30 days. After 30 days, they will be permanently deleted. Therefore, if you need to retrieve notes deleted more than 30 days ago, then you need to use iPhone Data Recovery as a solution.
Method 2 Check Your Email Settings
As we mentioned before, sometimes notes disappear due to some mistake in email Settings. We can start by checking our account Settings.
Step 1 Go to "Mail" > "Settings". Click on email accounts, and make sure "Notes" is open on each account. If you deleted your email account from your iPhone or changed your email password, reset the account and open "Notes".
Step 2 Return to the "Notes" app to see if the missing notes have returned.

Restore recently deleted notes on your iPhone
Tips:
Sometimes, if notes are deleted from the "Notes" application but the deleted data has not yet been synchronized with the email, the deleted notes will still exist in your email application. If the deletion has been synchronized, you can retrieve the deleted Notes in the trash can of the email application. The contents of Gmail's trash can will be stored for 30 days.
Method 3 Use iPhone Data Recovery after iOS updated to Retrieve Missing iPhone Notes without Backup
If none of the above methods work, iPhone Data Recovery is your ideal option for recovering lost or deleted Notes after an iOS version update. After downloading and installing the software on your Windows or Mac computer, the data recovery tool is able to retrieve missing iPhone notes directly from your iPhone in a fast and efficient manner, allowing for previewing before recovery.
Free Trial for Win Free Trial for Mac
The main features of iPhone data recovery:
Restore lost notes in the simplest way without the need for backup.
Restoring notes directly from iPhone without the need to restore backup files will not affect the current data on iPhone, nor will data loss occur.
Support previewing data before recovery, allowing users to selectively restore only the required notes.
iPhone Data Recovery can recover various types of data, including contacts, emails, images, videos, audio, and text messages.
It has good compatibility and can be compatible with almost all iOS devices, such as iPhone 15 and all iOS versions, including iOS 16.
For how to use iPhone data recovery to retrieve lost iPhone notes after iOS version update without the need for backup, please refer to the following steps.
Step 1 Install and launch the data recovery program on your computer, then select "Recover from iOS Device" mode.
Free Trial for Win Free Trial for Mac

Step 2 Connect your iPhone to your computer, then wait for the program to detect it and click the "Next" button.
Step 3 Select the type of data you want to recover, such as "Notes". Next click "Scan". iPhone Data Recovery will begin scanning your iPhone for all recoverable notes.

Step 4 Preview and select the Notes you want to recover on the results page. Then click "Recover" to save the recovered notes.

Method 4 Finding Lost iPhone Notes from iTunes Backup
As we all know, Apple officially provides iTunes and other ways for users to regularly back up the data on the iPhone. If you have iTunes backup files available, then you can also recover those missing notes from iTunes. The detailed steps are as follows.
Step 1 Open your iTunes and click the iPhone icon.
Step 2 Select the iTunes backup file that contains the deleted notes and click Restore Backup.
Recover iPhone's missing notes with iTunes backup

Tips:
1. This method only works if there is an iTunes backup available.
2. This method will obtain backup files, but the data generated after backup on the iPhone will be overwritten and may be permanently lost.
Method 5 Finding Missing iPhone Notes through iCloud Backup
In addition, if your iPhone has iCloud enabled, which means you back up iPhone data through iCloud, you can also look for available backup files from iCloud. iCloud automatically backs up iPhone data when your iPhone is connected to stable mobile data and Wi-Fi.
To recover missing notes from an iCloud backup, first make sure you have a backup file available to restore. Just go to Settings > iCloud > Storage > Manage Storage and check the date and size of your iPhone's latest backup. After confirming that the backup contains lost notes, you can follow the following steps to restore it.
Step 1 Turn on your iPhone, go to "Settings" > "General" > "Reset", and select "Delete All Content and Settings".
Step 2 After the reset is complete, turn on the device and perform operations as prompted. From the Apps and Data screen, select "Recover from iCloud Backup" and select the iCloud backup file that contains the missing notes.

Tips:
1. Make sure your iPhone has automatic backup enabled.
2. As with restoring data from iTunes backup files, this method will get the backup files, but the data generated after the backup on the iPhone will be overwritten and may be permanently lost. That is, this method does not allow for selective recovery of the required notes, nor does it support pre-recovery preview.
Summary
The above are several effective methods we have introduced for recovering notes that have disappeared on your iPhone. You can choose according to your own needs. Among them, iPhone Data Recovery is the best choice for recovering notes that disappear on the iPhone after updates. It not only allows iOS users to recover lost or deleted data, but also allows users to selectively restore the notes they need to restore, and does not support previewing before restoring. Most importantly, it restores notes directly from the iPhone without the need to restore backup files, without affecting the current data on the iPhone or causing data loss.