Can I retrieve the lost files on the Mac? The answer is yes. This article will introduce you to the three best free data recovery software for Mac. These three software have different functions and performance, and they can be used for free.
3 Best Free Mac Data Recovery Softwares
If your Mac loses data due to accidental deletion, formatting, upgrading and other reasons, please do not panic. The following list of data recovery softwares can help you retrieve the data.
1. Data Recovery (4DDiG) for Mac
Data Recovery (4DDiG) for Mac is one of the top Mac data recovery software available for free. It can effectively recover data from MAC notebooks, MAC desktops, hard disks, U disks, SK cards, and digital cameras. MAC notebooks and MAC desktops can be directly operated for recovery. Hard disks, U disks, SK cards, and digital cameras can be connected to MAC through data lines, and then click the operation to recover.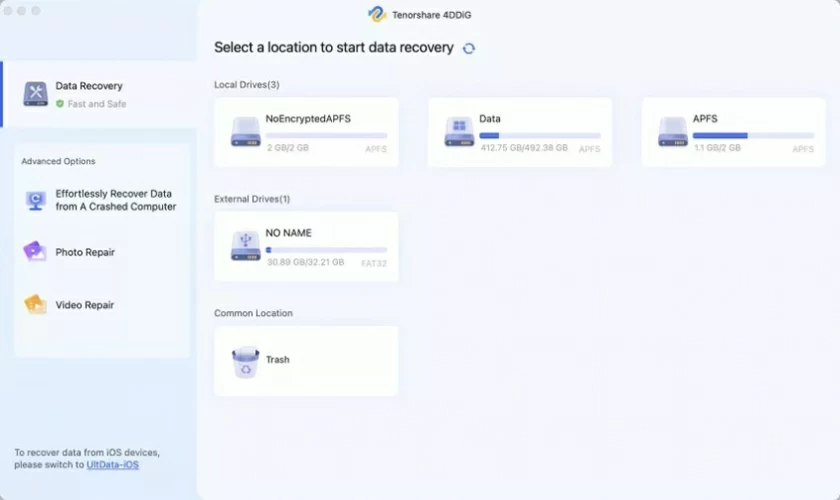 Data Recovery (4DDiG) for Mac features:
1. Data recovery software with strong compatibility
Data Recovery (4DDiG) for Mac is fully compatible with all macOS, such as macOS11.0 (Big Sur), 10.15 (Catalina), 10.14 (Mojave), etc. It only takes 3 simple steps: Scan>Preview>Restore.
2. HFS+Fusion drive recovery
Data Recovery (4DDiG) for Mac also supports Fusion Drive, which enables it to support file retrieval from Mac computers installed on Fusion Drive.
3. Encrypted drive recovery is supported
Another feature of Data Recovery(4DDiG) for Mac is the ability to help Mac users recover data from encrypted drives.
4. Full data preview before recovery
Complete preview is supported for all found data, which helps users better identify files and greatly improves the efficiency of quick recovery of lost files.
Data Recovery (4DDiG) for Mac Advantages:
Support recovery of more than 200 MAC file formats, including Word/Excel/PPT documents, photos, videos, music, mail, files, etc.
Multiple recovery modes can help users greatly improve efficiency.
The file can be previewed completely before recovery.
There is no loss of source file quality for photo and video recovery.
Data Recovery (4DDiG) for Mac Disadvantages:
The free version has a recovery file size limit.
A free three-step tutorial for Mac data recovery
To help you better understand the recovery operation, we will introduce the steps of data recovery in detail.
Step 1. Select the disk to be scanned
Start Data Recovery(4DDiG) for Mac and select the hard drive, SSD, SD card, USB flash drive, or TF card from which the data was lost. And start scanning.

Step 2. Filter out the lost Mac data
After the software automatically scans for lost data on the MacBook or iMac, you can search for the desired data by Type and Name.

Step 3. Select the desired file and restore it.
Before restoring, you can double-click the file to preview it. If you want to restore, you can select the file and click Restore to recover the lost data.

2.Disk Drill for Mac
Disk Drill for Mac is a popular Mac program that can help users recover lost files from the Mac's internal and external hard disks. It supports preview to delete files and retain metadata to help quickly recover files.

Disk Drill for Mac Features:
1. Cancel the deletion of protected data (not available in the free version)
Similar to Data Recovery(4DDiG) for Mac, with Recovery Vault and Guaranteed Recovery pre-enabled, Disk Drill supports canceling the "deleted protected data" function, which can quickly recover from the trash folder to a specified folder.
2. Retrieve the specified file
Compared with Finder's inability to read data, Disk Drill can better scan partitions and retrieve data.
Disk Drill for Mac Advantages:
Compatible with all Mac OS X and macOS systems.
Support recovery of more than 200 file types.
All users can try it for free.
The user interface is relatively intuitive.
Disk Drill for Mac Disadvantages:
The free version only allows previews, does not support recovery.
3.PhotoRec
This is a free open source program, which performs very well in data recovery for older Mac OS. PhotoRec allows users to restore photos, audio, documents and other common files from a computer or external devices (such as digital cameras, memory cards, hard disks).

PhotoRec features:
1. Advanced file retrieval
PhotoRec supports searching for small chunks of data. As long as the file is not damaged, the program supports finding the lost files from ext2/ext3/ext4 or FAT/NTFS. PhotoRec checks the files found by the device from the sector to calculate the block size to locate and find more missing files.
PhotoRec Advantages:
Cross-platform (Mac OS X, Windows, Linux, etc.) data recovery.
Open source program, freely available source code.
Restore personal files.
PhotoRec Disadvantages:
It is a little complicated for ordinary computer users.
It needs to be operated using the command line.
FAQs about the best free data recovery softwares on Mac
Mac users may have concerns about Mac file recovery. Here, several of the most common questions may help you.
1. Is Mac data recovery free?
There are free and paid Mac data recovery softwares. When files are lost on the local Mac hard disk drive or external storage device, you can use free Mac data recovery software such as Data Recovery (4DDiG) for Mac to recover for free.
2. What is the best free data recovery software?
For Mac users, you can refer to the three tools introduced in this article. They are all the best free data recovery softwares.
3. How to cancel deleting files from the Mac trash can.
When files are deleted into the Recycle Bin by mistake on the Mac and the Recycle Bin is not empty, you can recover them directly from the Recycle Bin.
If the Recycle Bin has been emptied, you can use the three tools described above for recovery. We strongly recommend that you use Data Recovery (4DDiG) for Mac.
Summary of The Best Free Data Recovery Softwares on Mac
In this article, you've seen three completely free Mac Data Recovery softwares - Data Recovery(4DDiG) for Mac, Disk Drill, and PhotoRec. In the event of unexpected data loss on your Mac, the above programs can help you efficiently recover lost files.
If you have not lost much data, we strongly recommend Data Recovery (4DDiG) for Mac, because it provides the most friendly user interface and free data recovery.