Have you ever encountered the following situation, a Samsung mobile phone that has not been used for a long time, cannot be accessed because of forgetting the password; or a second-hand Samsung mobile phone that has been purchased in good condition, but cannot be accessed to the desktop? This article will introduce you 3 ways to unlock your Samsung phone. Important note: The methods described in this article are only for use by your own mobile phone or professional maintenance personnel, and do not use it for illegal purposes! All legal consequences are borne by the users themselves, and have nothing to do with us.
The fact that you can't access a Samsung desktop as you forgot your password is actually due to the FRP lock in Android. FRP lock is a security feature built into the Android system to prevent unauthorized access to your phone. FRP locks are very critical to protect the user's device and information, but in fact we may need to unlock the phone if the password cannot be entered correctly. At this time, the unlocking tool of the FRP lock is very necessary.
3 Best Samsung FRP Bypass Tools
1. UnlockGo(Android)
UnlockGo(Android) provides unlocking services for more than 2,000 Android phones from over 15 brands including Samsung. Its operation is very simple, and the user can unlock the device with a simple operation after connecting the device to the PC. It offers a free trial to check compatibility with your device model. Overall, UnlockGo (Android) is popular with many users.
How to Bypass Any Samsung FRP Lock?
Step 1 Download and install Samsung FRP Bypass Tools.
Step 2 Open UnlockGo (Android) and connect the FRP locked Samsung device to the PC.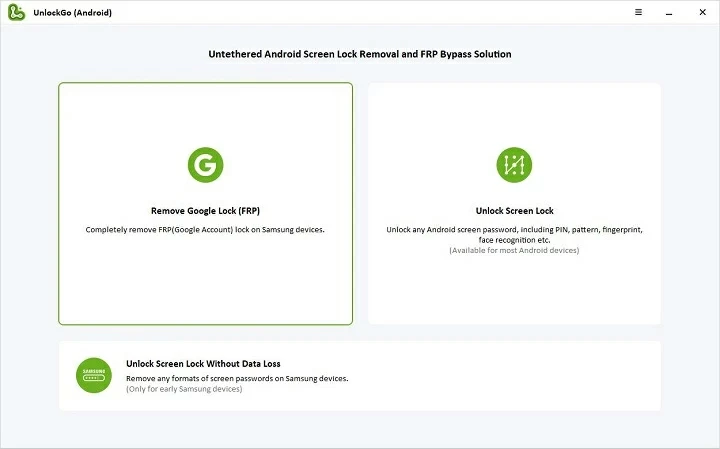 Step 3 Click the "Start" button in the new window to confirm the operation.

Step 4 Delete the Google FRP lock from the Samsung device.

Step 5 Restart your Samsung phone and you will find that your device has successfully bypassed FRP and regained full access to the device.

2. UnlockJunky
UUnlockJunky is a 24*7 solution for users to unlock Samsung and other devices online. The user only needs to connect the device to a PC, download the installation software, and provide the technician with the model of the device to be unlocked. After waiting for 5-15 minutes, the remote unlocking can be realized without going offline. There is a fee for using UnlockJunky's unlocking service.
3. DroidKit
One method that has to be mentioned for unlocking a Samsung phone is Droidkit. It works great on Windows and macOS. No matter which model of Samsung mobile phone it is, Droidkit will provide you with a targeted unlocking solution to ensure unlocking in the shortest possible time. At the same time, it also pays attention to protecting the user's information, and the unlocking process is encrypted and protected by SSL-256. In addition, it also provides services such as data recovery, repairing Android system problems, etc. You can try it for free before paying.
Tip again: The method described in this article should not be used for illegal purposes! All legal consequences shall be borne by the user.