When you open the Android Gallery app and suddenly notice that your photos have disappeared, you'll probably freak out. There's a lot of feedback from users on various forums:
My photos have disappeared from the gallery. I can't use the camera to take pictures, and I can't view any photos;
I accidentally touched my phone in my pocket and deleted some photos, while I couldn't find them in the recycle bin;
My phone often loses some photos, and it comes back after restarting, and it disappears when I use it;
The DCIM folder has only the most recent photos, and all the old photos have disappeared;
The pictures in the Google Photos app are gone, neither in my Library folder nor in the Trash folder;
Because these kinds of problems are too frequent, we specially create this article to help users. we will analyze the reasons behind the disappearance of photos, let you know how to fix these problems and restore photos back to your Android phone.
If you want to quickly get back your lost photos and don't want to try one by one, you can directly download this Android Photo Recovery tool and restore your Android photos with a few simple clicks.
Free Trial for Win Free Trial for Mac
Directory of Android Photos Disappeared
Why do photos disappear from Android system?
The first reason is that it disappears without manual deletion;
If a photo disappears without manual deletion, it is usually caused by software or hardware problems. Possible reasons:1. Gallery on Android does not work properly;
2. Failed to update the mobile phone system;
3. Phone jailbreak or malware infection;
4. Third-party software errors, etc;
5.Hardware failure, such as component damage, microSD card error, etc.
The second reason is the loss caused by manual deletion.
How to Fix Android Phone Photos Disappearing?
Once we know why the photos are missing, we can troubleshoot the problem on a case-by-case basis. First, the easiest way is to restart your Android phone and see if the gallery returns. If not, scroll down.
Next, we take a Samsung Galaxy phone as an example to introduce the repair method for the disappearance of photos. Different Android phone models or versions may vary slightly.
Method 1. Delete the .nomedia file
If the photo is not found in the gallery for no reason, the main possible reason is that the folder contains a file with a .nomedia file extension, which will cause the album to fail to load and display. The easiest solution in this case is simply to find and delete the .nomedia file in the file manager on the phone.
If you are not sure how to find the .nomedia file, check out our detailed tutorial below:
1. Open the "My Files" app (or file manager) on your Android device;2. Expand the three dots menu on the top right and select Settings. Enable "Show hidden system files" on the settings interface;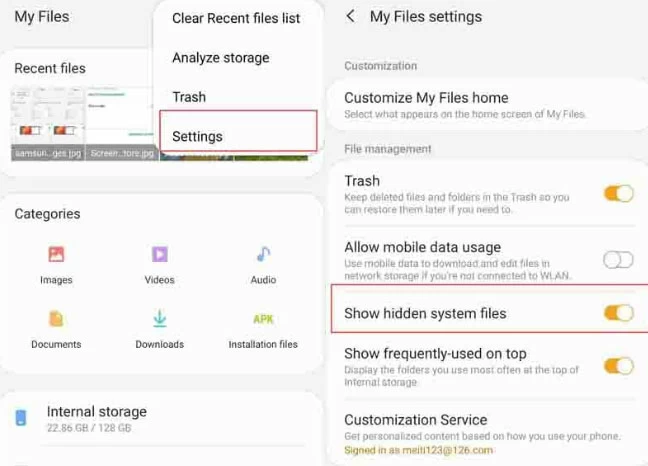 3. Go back to "My Files" to select an image. Then type "nomedia" in the search bar to find it;4. Find the photo with the .nomedia file extension in the search results and select it to delete the icon and file;

After the deletion is completed, you can return to the album to get the lost photos. If the .nomedia file is not found in the search results, then this method is not suitable, and you need to check the follow-up methods.
Method 2. Clear Gallery app cache
The Gallery app on your phone handles all media content, including photos. Cached images and files of the program's content can corrupt or crash your Gallery application, eventually causing Gallery to not display pictures. So you can clear the gallery app cache to see if that solves your problem.
Guidelines for clearing the Gallery app cache: Go to "Settings"> "Apps & Notifications" > "Gallery" > "Storage & Cache",Click "Clear cache", then click "Clear storage".

Don't worry, clearing the cache in the Gallery app will not affect existing photos and albums.
The Gallery app on your phone handles all your media content, including your photos. Since this app is where you are experiencing problems, it's worth clearing the gallery app cache to see if that fixes your problem.
Go to "Settings"> "Apps & Notifications" > "Gallery" > "Storage & Cache" on your phone. Click "Clear cache", then click "Clear storage".
Method 3. Directly recover software photos from Android phone
Recovering software photos directly from an Android phone requires a tool, and the tool we will introduce here is DroidKit. It works with all Android phones and tablets and can scan your entire gallery and photo library to help retrieve photos that have been deleted due to software problems or misoperations.1. Install and download DroidKit on your computerFree Trial for WinFree Trial for Mac
2. In the startup interface, select "Deep Scan Mode".

3. Connect the Android smartphone with the computer via a USB cable. When instructed to enable USB debugging mode, select "Allow" on the phone.
Step 4: Check Gallery and Picture Library to scan lost photos, and click on "Next" button.

Step 5: After that, the software will display the lost photos, and you can restore them.

Method 4. Recover disappeared photos from backup
Another option is to recover Android lost pictures from Google Photos. If you have the Google Photos app sync enabled on your Android phone, you can find it in the Trash in the Library tab at the bottom of Google Photos. Photos and videos deleted in the past 60 days will appear in the list. If the photos exist in the Trash, you can restore it through Google Photos.
Summary of android photos disappeared
If you lost some photos on your Android device, you can use one of the above methods to retrieve the lost photos. These methods are relatively easy to operate. If the photo was deleted by mistake, please stop using the phone as soon as possible. You can use Android Recovery tools to restore or backup data to prevent data from being overwritten and permanently deleted. Finally, I hope all the people don't have to worry about disappearing photos.